Fee calculator for water systems
This fee calculator tool is an Excel spreadsheet. When you enter your water system ID number, the tool will automatically calculate your projected fees for 2012, 2013, and 2014.
The online fee calculator will not work properly for satellite management agencies (SMAs) that own multiple systems. Click here for a listing of SMA fees (PDF). If you need help calculating your fee, contact Jacqui Brown Miller at 360-236-3112.
Be sure to follow each of the steps below:
First, open the fee tool (Excel)
Enabling macros - Because this Excel file uses macros to help you move between pages, when you first open the tool, you may see this warning: "Security Alert: macros may be disabled." Click on the "Options" button in the options box. Click "Enable this content." Then click OK. (See sample Security Alert box below.)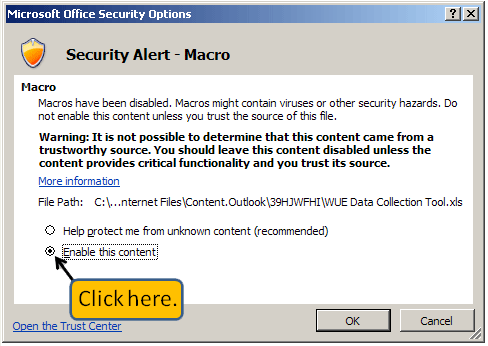 For more information