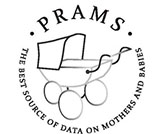 The PRAMS survey answers give us information about what behaviors and factors may affect the health of the mother and her new baby. The answers help us to learn more about ways to improve the health of mothers and babies in Washington.
PRAMS Background
PRAMS was developed by the Centers for Disease Control and Prevention (CDC) in 1987. Washington PRAMS began to collect data in June of 1993. The PRAMS survey asks about topics related to risk factors before and during pregnancy and infancy, access to prenatal and children's health care, and content of prenatal care.
PRAMS Data Collection
In Washington, about 2,200 surveys are sent to participants each year. Approximately 206 mothers are drawn each month from birth certificate data using a random sample based on race and ethnicity. The sample includes the following racial/ethnic groups: White not Hispanic, African American not Hispanic, Asian/Pacific Islander not Hispanic, Native American not Hispanic, and Hispanic.
Washington PRAMS collects data through a statewide mailing of the survey. The PRAMS survey is sent to new mothers two to six months after they deliver their babies. Telephone follow-up is done for those who do not respond to the mailing. The mail and telephone surveys are available in English and Spanish. Washington PRAMS' weighted response rate for 2018 was 62%.
PRAMS Data
PRAMStat is an online data platform developed to provide public access to over 250 maternal and child health indicators from the Pregnancy Risk Assessment Monitoring System (PRAMS). Users have the ability to explore data from a single state or select a topic and compare data across states.

Methods and Limitations
PRAMS uses a standardized data collection methodology developed by the Centers for Disease Control and Prevention. Each state conducting PRAMS uses the same methodology, but can adapt the procedures to meet the needs of the state.
PRAMS data are self-reported by new mothers and may be subject to potential sources of error. Women may not recall events prior to or during the early part of their pregnancies. In addition, they may be hesitant to report on behaviors perceived to be unhealthy. We do not know the extent to which such errors may be occurring in these data.
For more information on PRAMS, please see the CDC PRAMS website or contact:
Washington State PRAMS Data
PRAMS Coordinator
Washington State Department of Health
Prevention and Community Health
PO Box 47835
Olympia, WA 98504-7835
(360) 236-3576
E-mail: WAPRAMS@doh.wa.gov