What is a stroke? | Act FAST and call 9-1-1 for stroke | Preventing stroke | More EMS Resources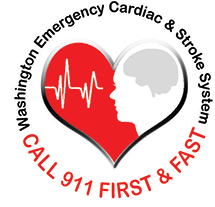 Experiencing a stroke can be devastating to patients and their families, causing death and often significant disability that prevents a stroke survivor from returning to work and normal life activities. However, if patients get to treatment quickly, their chances of surviving and avoiding disability significantly increase.
The Washington Coverdell Stroke Program (WACSP) aims to reduce death and disability from stroke by working with the public and partners across the healthcare continuum to recognize stroke and get evidence-based treatment rapidly through a robust, well-coordinated system.
WACSP is a data-driven quality improvement project funded through a five-year grant from the Centers for Disease Control and Prevention. Washington is one of nine states participating in CDC's Paul Coverdell National Acute Stroke Program, named after Georgia Senator Paul Coverdell who died from a stroke while in office. Our primary strategies to improve stroke care and outcomes are:
Support EMS, hospitals, and other healthcare providers to do data-driven quality improvement.
Provide training to increase workforce knowledge and expertise.
Strengthen our state stroke system.
Build an integrated stroke registry using existing data sources that links EMS, hospital, and post-acute data to measure performance and outcomes across the system.
Educate the public and care providers on the signs and symptoms of stroke, and the importance of time to treatment and calling 9-1-1 at the first signs of stroke.
Contact the Coverdell Stroke Program Manager for more information or call 360-236-2807.