How to Protect Residents in Adult Family Homes
Visiting someone in an Adult Family Home (AFH) is important for both the resident and the visitor. However, it also poses a risk of bringing illness into the home, infecting residents and staff.
Adult Family Home Visitation
Learn about how visitors can prevent the spread of infections in Adult Family Homes.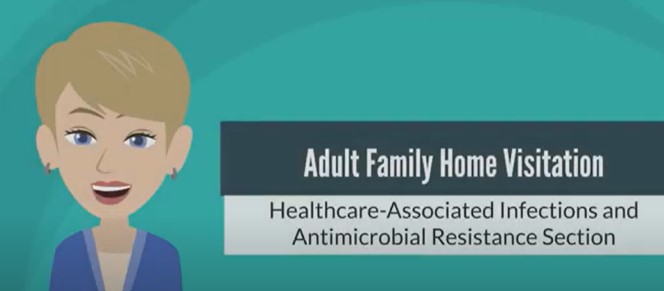 Training Resources
Please join a panel of experts from the Department of Health (DOH), Clark County Public Health and the Department of Social and Health Services (DSHS) on October 5, from 1:30-3:00 p.m. This session will focus on crucial strategies for preventing flu and RSV outbreaks in adult family homes (AFH), along with steps to take in the event of an outbreak. Engage with our panel, ask questions, and gain valuable insights to safeguard the health of residents and staff. Adult Family Home Council members who attend the entire webinar will be eligible for 1.5 hours of continuing education (CE) credit. 
Guidance Materials
AFHs can utilize the following guidance materials to help families and friends of residents become partners in infection prevention by empowering visitors with knowledge and tools to keep everyone safe.
COVID-19
COVID Testing
COVID - 19 Fact Sheet
COVID-19 Announcement for Visitors
Cover Your Cough
Hand Hygeine
Hand Washing
Hand Sanitizer
Infection Control and Response (ICAR)
These free, non-regulatory consultations can be completed either onsite or virtually.
Schedule an ICAR
Personal  Protective Equipment (PPE)
Department of Health PPE Resources
PPE Supplies
PPE Fatigue and Complacency
PPE Signage
Quarantine
Respiratory Protection
Standard Precautions