What are Antibiotics?
Antibiotics are drugs used to treat bacterial infections and are part of a larger group of drugs known as antimicrobials. Antibiotics are powerful tools but often prescribed unnecessarily or incorrectly. How we choose to use antibiotics today directly impacts how effective they will be for future patients. Antibiotics are a shared resource and we are all responsible for prolonging their effectiveness.
When can antibiotics help?
Antibiotics are effective against bacterial illnesses like strep throat. They are not effective against viral illnesses like a cold or the flu.
When can antibiotics cause harm?
Taking antibiotics when they are not needed exposes patients to risk of antibiotic-associated harms without any benefits. Harms from antibiotics include allergic reactions, disruption of intestinal flora, and Clostridium difficile infection.
More about antibiotics from the CDC
Antibiotic Resistance
Antibiotic resistance means bacteria have changed to resist the killing effects of an antibiotic. Once bacteria become resistant they can continue to multiply causing more harm. Antibiotic-resistant bacteria/infections are more difficult to treat, require more toxic and expensive treatments, lead to longer hospital stays, and can spread from person to person, compounding the problem.
According to the US Centers for Disease Control, each year in the United States at least 2 million people become infected with bacteria that are resistant to antibiotics and 23,000 people die each year as a direct result of these infections. In addition, most of the 500,000 infections and 29,000 deaths due to Clostridium difficile in the US each year are associated with antibiotic use.
More about antibiotic resistance from the CDC
Learn about Clostridium difficile infections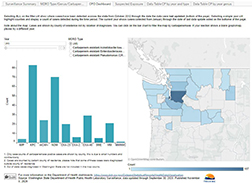 The Department of Health is transforming how we present data. We want to provide the public with information that is easy to interact with and easy to visualize. We created new visualization dashboards summarizing
Multi-Drug Resistant Organisms
(MDRO)
reports, including carbapenem-resistant Enterobacteriaceae (CRE) and other carbapenemase-producing organisms (CPO). These visualizations allow users to:
Interact with charts, maps, and graphs
Export the data as a spreadsheet.
The data for these dashboards comes from samples submitted and tested through the Washington State Public Health Laboratory, as well as reports from other states made to the Healthcare Associated Infections (HAI) Program. These dashboards display data reported since 2012 and is updated quarterly.
Access the MDRO dashboards
Antibiotic Stewardship
Antibiotic stewardship promotes appropriate use of antibiotics: the right antibiotic, at the right dose, for the right duration, at the right time. The Washington State Department of Health supports several antibiotic stewardship programs and initiatives. See the following documents that demonstrate Washington's commitment to improving use of antibiotics.
2017 Governor's Proclamation (PDF) on appropriate use of antibiotics
Open Letter to Washington State on Combating Antibiotic Resistant Bacteria (PDF)