The MMR vaccine provides long-lasting protection against measles, mumps, and rubella.
MMR vaccine is recommended for:
Babies and children, who need two doses:

The first dose at age 12 through 15 months
The second dose at 4 through 6 years
If your family is traveling overseas, babies and children may need to have their doses earlier. Talk to your healthcare provider before you travel.

Adults born after 1957.
People at higher risk of getting these diseases, such as healthcare workers, college students, and international travelers.
MMR is particularly important for women who may get pregnant because rubella can cause serious birth defects. You cannot get the MMR vaccine during pregnancy.
Click on graphic for information about how to protect your child from measles
Use of mumps-containing vaccine (MMR and MMRV) during an outbreak of mumps
During an outbreak of mumps, making sure everyone has the recommended 2 doses of mumps vaccine along with avoiding things that cause mumps to be transmitted are the standard ways used to control the outbreak. Anyone who doesn't know their vaccine history or has had no doses or only one dose of a mumps vaccine should get a dose during an outbreak.
A third dose for those who already have two doses is another way to improve protection for some people in an outbreak who are identified by public health authorities as at higher risk for catching mumps. This is to improve protection against mumps disease and its serious consequences. A third dose of MMR has been determined to be safe and effective at preventing mumps.
If there is an outbreak of mumps in your area, check with your healthcare provider to see if you have had two doses of MMR or MMRV vaccine. If you have had two doses, check with your healthcare provider or local public health department to find out if any group that you are part of has been determined to be at higher risk for catching mumps. If you and other group members are recommended to get a third dose of MMR or MMRV, tell your healthcare provider.
For Parents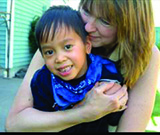 For Healthcare Providers
Vaccine Information Statements
Other Resources