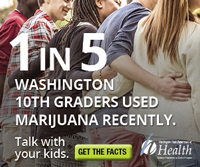 Cannabis Prevention and Education Program
The first retail cannabis stores opened in July 2014. Cannabis remains illegal for people under the age of 21.
As directed by Initiative 502 (I-502), the Washington State Department of Health provides the following resources:
A public health hotline: http://www.warecoveryhelpline.org.
Community grants that support the prevention and reduction of cannabis use by youth.
Media-based education campaign, You Can targets youth ages 12-17.