This page covers immunization information for preteens and teens age 11 to 18. Some of this information may cover children younger than age 11. See the Children page for information on birth to 6 years and the School and Child Care page for school and child care immunization requirement questions.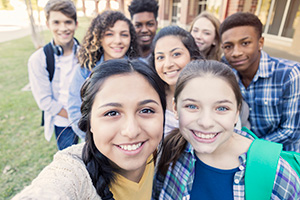 Why are immunizations important for teens?
Teens need immunizations to stay healthy. Some diseases, like chickenpox, are more dangerous for teens and adults than they are for young children. Two vaccines, HPV and hepatitis B, also protect against certain cancers later in life.
What are the recommended immunizations for teens?
Healthcare providers recommend immunizations for teens to protect against serious diseases. Some of the recommended immunizations for teens are required to attend school in Washington. Read more about that on the school requirements page. The official recommended vaccine list is created by the national Advisory Committee on Immunization Practices.
Washington Recommendations:
National Recommendations:
All teens need to be up to date with immunizations in the chart.

Teens with chronic health conditions like asthma or diabetes, and teens that have weak immune systems, may need more immunizations. Check with your teen's healthcare provider to find out if they need the following immunizations:
Age or other health conditions may change the number of doses or times when vaccines are due. Always check with your healthcare provider to find out what your child needs.
What are the immunization requirements for teens?
Here are vaccine requirements for schools and child cares, including changes and exemptions. You can also look at the table above to see a list of what's required and what's recommended.
Where can teens get immunizations?
Teens should go to their regular doctor, nurse, school-based health center, or clinic for immunizations. They may also be able to get immunizations at a local pharmacy, their local health department, or a vaccine clinic.
Here are some links to help you find a provider:
Flu vaccine finder tool (Note: not all providers listed in this tool give no-cost vaccinations, but it may be covered by your insurance. Ask each provider what they offer.)
Call Help Me Grow Washington Hotline at 1-800-322-2588 for help finding free or low-cost immunizations.
Talk to your clinic or insurance company to find out what's covered.
When should teens get their immunizations?
Starting at age 4, your child should get a well child checkup every year. When your child is 11 or 12 years-old, they can get several vaccines at that appointment. Your teen can get many of the recommended immunizations before age 11, so ask your provider at each well child checkup. Teens also can get immunizations when they see their healthcare provider for sports physicals, injuries, mild illnesses, and other visits. Everyone 6 months of age and older, including teens, needs a yearly flu shot.
How much do vaccines cost?
Washington teens younger than age 19 can get immunizations at no cost. You might have to pay a small charge for the office visit or for vaccine administration. However, you can ask for the fee to be waived if you can't afford it. Clinics that get state-supplied vaccine are forbidden by law from denying your child a vaccine because you cannot pay. Most health insurance plans cover preventive health care costs, including vaccination, without applying deductibles or co-pays
How can I get my child's immunization record?
There are four ways to get your child's record:
Option 1: Sign up for MyIR to view, download, and print your family's immunization information. Already have an account? Log in to MyIR
Option 2: Visit your local pharmacy, clinic, or school
Option 3: Request a complete immunization record from your healthcare provider
Option 4: Request a complete immunization record from the Department of Health
More information about immunization
Call your doctor, nurse, clinic, or local health department for more information about immunizations and other preventive health services.
What other preventive health services do teens need?
Teen health checkups may include health education, screening, and physical exams. Your teen can talk with their healthcare provider about:
Immunization
Diet/nutrition
Exercise
Injury prevention
Mental health
Risk behaviors
Find more children's health and safety resources here.
Does your teen want to learn more on their own? Send them to TeensHealth for information on many topics written just for them, such as diet, bullying, mental health, concussions, flu vaccine, "5 tips for surviving shots," and more.