HPV Vaccine is Cancer Prevention
Human papillomavirus (HPV) is a very common virus that causes genital, oral, and skin infections. It spreads easily through intimate skin-to-skin contact. People of all genders can get HPV and spread it to others without realizing they have the virus. Most people will get an HPV infection in their late teens and early 20s.
There are many types of HPV. Most of them do not cause infections. However, some types of HPV can cause cancer of the cervix, vagina, vulva, penis, anus, and back of the throat. Other types of HPV can cause genital warts. The good news is that most of these types of cancers and warts are preventable with a vaccine against HPV infection. Learn more about HPV, cancers caused by HPV, and the vaccine for HPV.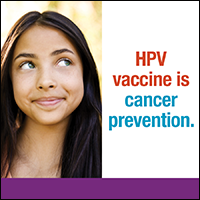 Doctors and nurses recommend the HPV vaccine for children at age 9
The HPV vaccine provides long-lasting protection against the most common cancers caused by HPV. Doctors and nurses recommend the HPV vaccine for children at age 9. The HPV vaccine is most effective at this age because it produces the most infection-fighting cells, or antibodies. This also ensures immunity is already in place before any exposure to the virus. However, if your teen hasn't received the vaccine, it is not too late. Talk to their doctor or nurse about getting them immunized as soon as possible. This is a recommended vaccine up through age 26. If you are an adult age 27 through age 45, talk with your healthcare provider to see if you should get the HPV vaccine.
HPV vaccine is available at no cost to adolescents less than 19 years of age
The Washington State Childhood Vaccine Program provides all recommended vaccines at no cost for children through age 18, and they're available from health care providers across the state. Healthcare providers may charge an office visit fee and an administration fee for the vaccine. However, if you cannot afford the administration fee, you may ask your provider to waive it. And most health insurance plans cover the vaccine for adults who are in the recommended age range.
Parents: Did you know you have the power to protect your kids from certain cancers?
Parents and guardians have an important role in protecting adolescents from HPV. Talk with your child's doctor or nurse about the HPV vaccine. HPV vaccine is cancer prevention. HPV vaccines are safe and highly effective in preventing infection with the types of HPV they target when given before any exposure to the virus. Make an appointment today to protect your child from several cancers caused by HPV.
More information for parents:
Read stories from survivors: Paul and Stewart had cancer caused by HPV. Read their stories to find out why they want parents to protect their kids from HPV.
Hear from a Survivor: A young mom experienced cervical cancer and her world turned upside down. Listen to this 2-minute podcast to learn what she's doing to protect her kids from HPV-related cancers.
Tweens, Teens, and Young Adults: Protect yourself against cancer-causing HPV infections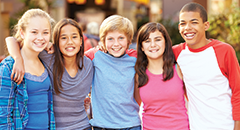 If you are age 9 to 26, protect yourself against several cancers and genital warts by getting the HPV vaccine.
Listen to a 2-minute podcast about how the HPV vaccine prevents cancer
.
More information for preteens and teens:
More information for young adults:
LGBTQ+ Resources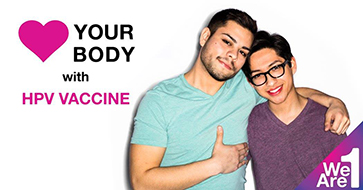 HPV Vaccine Schedule in Washington State
Everyone should start HPV vaccine at age 11 or 12 years, or as early as 9 years. CDC also recommends vaccination through age 26 for everyone. Anyone age 27 through 45 may get the HPV vaccine after having a discussion with their healthcare provider.
You need all recommended doses for full protection. The vaccine is more effective and usually requires fewer doses when given at younger ages. The number of doses (2 or 3) you need depends on the age you start the series and whether or not you have a weakened immune system. Talk to your healthcare provider about which doses you or your child may need.
Age When Starting Series
Number of doses needed
Schedule
9 to 14 years
2
6 to12 months apart
15 to 45 years

 

3

Doses 1 and 2 should be 1 to 2 months apart. Doses 2 and 3 should be 3 months apart. There should be 6 months between doses 1 and 3.

Immunocompromised and/or HIV-positive
HPV Vaccine Requirements in Washington
HPV vaccination is not required to attend public K-12 schools in Washington, but it is recommended and offered at the same time as the required school vaccines are being given.
More HPV Information
HPV Information for Healthcare Providers
This page contains e-learning courses, recommendation information, resources for your practice and your patients, and more.