How to Enroll in the Breast, Cervical and Colon Health Program
Find the organization that serves your county in the map below.
Contact the organization that runs the program in your county.
They will check to see if you are eligible and help you enroll.
Who to Contact
Image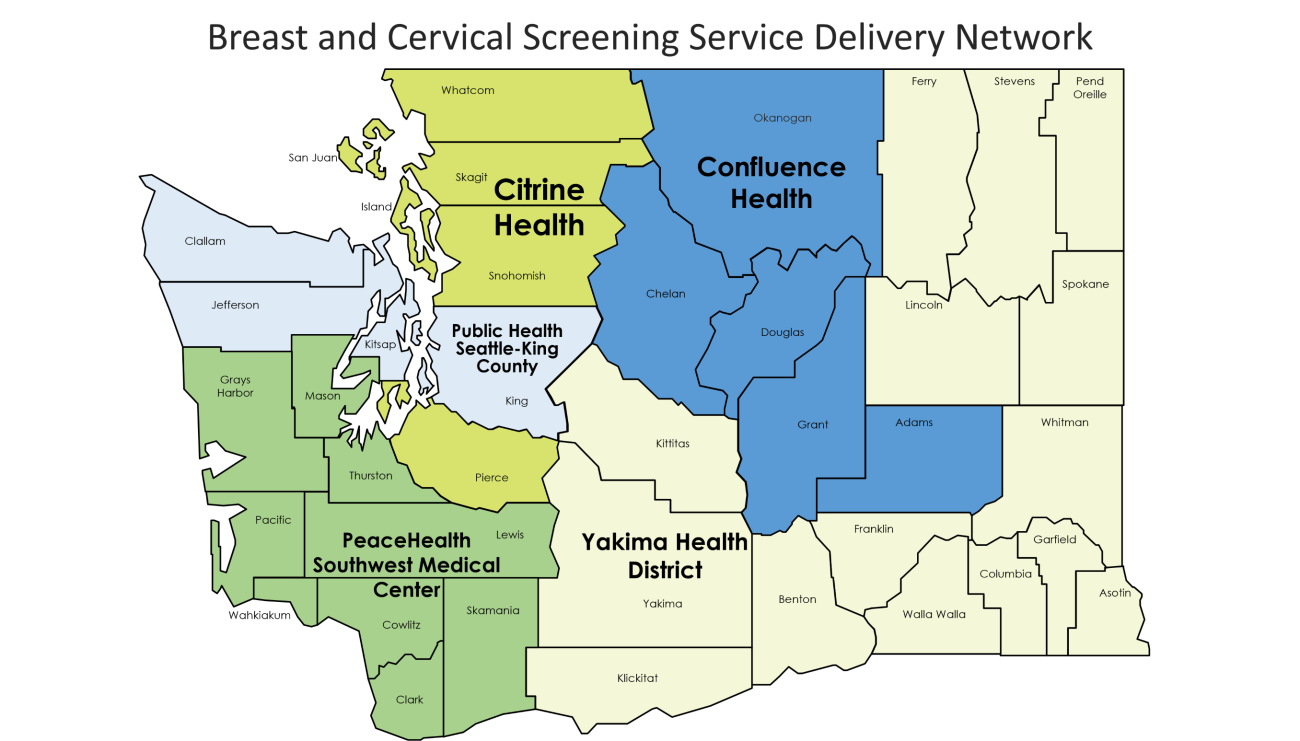 Citrine Health
Counties Served: Island, Pierce, San Juan, Skagit, Snohomish, Whatcom
2940 West Marine View Drive
Everett, WA 98201
Toll Free: 888-651-8931
http://www.citrinehealth.org/
Confluence Health/Wenatchee Valley Medical Center
Counties Served: Adams, Chelan, Douglas, Grant, Okanogan
820 N. Chelan
Wenatchee, WA 98801
Toll Free: 888-551-3994
http://www.confluencehealth.org/
PeaceHealth Southwest Medical Center
Counties Served: Clark, Cowlitz, Grays Harbor, Lewis, Mason, Pacific, Skamania, Thurston, Wahkiakum
600 NE 92nd Avenue
Vancouver, WA. 98664
Toll Free: 800-992-1817
http://www.peacehealth.org
Public Health Seattle–King County
Counties Served: Clallam, Jefferson, King, Kitsap
401 Fifth Avenue, Suite 900
Seattle, WA 98104-2333
Toll Free: 800-756-5437
www.kingcounty.gov/healthservices/health/chronic/bchp.aspx
Yakima Health District
Counties Served: Asotin, Benton, Columbia, Ferry, Franklin, Garfield, Kittitas, Klickitat, Lincoln, Pend Oreille, Spokane, Stevens, Walla Walla, Whitman, Yakima
1210 Ahtanum Ridge Dr
Union Gap, WA 98903
Toll Free: 800-535-5016
http://www.yakimahealthdistrict.org/
New Insurance Options Are Here!
New insurance options are now available in Washington State. Many residents will have new, better, more affordable options for health insurance. Visit Washington Healthplanfinder or call 1-855-923-4633 to learn more and sign up.