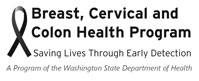 Regional Prime Contractor Staff
Click on the area of the map where your office is to get the contact information for your Prime Contractor.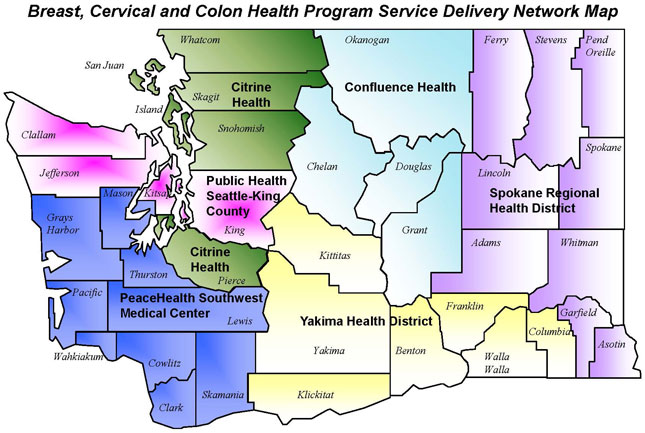 Citrine Health
Counties Served: Island, Pierce, San Juan, Skagit, Snohomish, Whatcom
2940 West Marine View Drive
Everett, WA 98201
Toll Free: 888-651-8931
Becky Jones, Program Manager
http://www.citrinehealth.org/
Confluence Health/Wenatchee Valley Medical Center
Counties Served: Chelan, Douglas, Grant, Okanogan
820 N. Chelan
Wenatchee, WA 98801
Toll Free: 888-551-3994
Holly Goetsch, Program Coordinator
http://www.confluencehealth.org/
PeaceHealth Southwest Medical Center
Counties Served: Clark, Cowlitz, Grays Harbor, Lewis, Mason, Pacific, Skamania, Thurston, Wahkiakum
600 NE 92nd Avenue
Vancouver, WA. 98664
Toll Free: 800-992-1817
Kathleen Pyper, Program Coordinator
http://www.peacehealth.org/
Public Health Seattle-King County
Counties Served: Clallam, Jefferson, King, Kitsap
401 Fifth Avenue, Suite 900
Seattle, WA 98104-2333
Toll Free: 800-756-5437
Jodi Olson, Clinical Preventative Services Manager
www.kingcounty.gov/healthservices/health/chronic/bchp.aspx
Spokane Regional Health District
Counties Served: Adams, Asotin, Ferry, Garfield, Lincoln, Pend Oreille, Spokane, Stevens, Whitman
1101 W. College Ave.
Spokane, WA 99201
Toll Free: 888-461-8876
Donna Oliver, Program Coordinator
http://www.srhd.org/services/bcchp.asp
Yakima Health District
Counties Served: Benton, Columbia, Franklin, Kittitas, Klickitat, Walla Walla, Yakima
1210 Ahtanum Ridge Dr
Union Gap, WA 98903
Toll Free: 800-535-5016
Cathy Lopez, BCCHP Lead
Jessica Dorsey, Health Promotion Specialist
http://www.yakimahealthdistrict.org/
Medical Advisory Committee Members
Please contact Kathleen Clark at the Department of Health at 360-236-3686 or kathleen.clark@doh.wa.gov for MAC review requests.
| Committee Member | Specialty |
| --- | --- |
| Maureen Brown, MD | Family Practice |
| Florence Gin, MD | Radiology |
| Srivalli Gopaluni, MD | Medical Oncology |
| Hedi Gray, MD | Gynecological Oncology |
| Lisa Humphrey, RN | Oncology |
| Christina Isacson, MD | Pathology |
| Shaily Jain, MD | Gastroenterology |
| Justin Junn, MD | Gynecology |
| Cary Kaufman, MD | Breast Surgeon |
| Cynthia Ko, MD | Gastroenterology |
| Robert Woodall, PAC | General Medicine |
| Leonel Zolessi, MD | Women's Health |