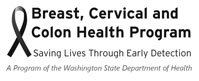 Who is Eligible for the Program?
To qualify for breast, cervical, or colon cancer screening services, a client must meet all of the following criteria:
Uninsured or underinsured and not eligible for Apple Health.*
Women between 40 and 64 years.*
Men between 50 and 64 years.*

Low-income (below 250 percent of the Federal Poverty Level). Check the

income eligibility table (PDF)

for specific income information.
*Limited openings are available for:
Women between 35 and 39 years old with breast symptoms.
Women and men under 50 may enroll in the program if they have a family history of a first degree relative (parent, sibling, or child) who was diagnosed before the age of 60 with either colon cancer or pre-cancerous polyps.
The program is open to anyone meeting all the criteria listed above. Particular emphasis is placed on reaching high-risk populations, including:
Ages 50 and older.
Native Americans.
African Americans.
Hispanics.
Asian/Pacific Islanders.
Lesbians.
Check the program's eligibility criteria (PDF) for additional eligibility requirements and the enrollment procedures (PDF) for how to determine eligibility.
Who is Eligible for the Program Through Susan G. Komen®?
In addition to meeting the criteria listed above, Susan G. Komen funds are available to screen women who also meet the following criteria:
Women between 18 and 34 years who:

Have breast symptoms.
Are below 300 percent of the Federal Poverty Level.

Women between 35 and 64 years who are: