The Infection Control Assessment and Response (ICAR) Program offers healthcare facilities the opportunity to participate in a consultative review of infection prevention practices.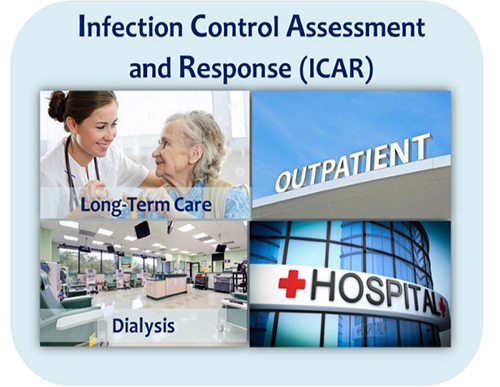 What is an ICAR Assessment?
ICAR assessments are:
Free of charge
Customized to assess infection prevention strengths and opportunities on a variety of infection prevention and control topics
Conducted by Infection Preventionists from the Washington State Department of Health that are Certified in Infection Control (CIC)or have received education in infection prevention
Focused on education and offer the most up-to-date infection prevention resources
Can my facility get an ICAR?
HAI and COVID-19 ICARs are available for a variety of healthcare settings:
Hospitals
Long-term care
Outpatient
Dialysis
Dental, TBA
Oncology, TBA
What will we get?
Facilities will gain:
An in-person assessment that is consultative and non-regulatory
Tailored resources, tools, and training
Ongoing consultation with an infection preventionist from the Washington State Department of Health
A sustainable partnership for ongoing improvement
How long does it take?
The ICAR visits take approximately 2 hours and covers the following topics:
Hand hygiene
Isolation procedures
Environmental cleaning
Employee safety
Antimicrobial stewardship
Injection safety
High-level disinfection and sterilization practices
Surveillance activities
How to prepare for an assessment
To view a sampling of the great resources provided during ICAR assessments, check out our all-in-one Infection Prevention Resources (PDF).
To prepare for your ICAR assessment, please view our preparations guide
Resources
Questions?
Email: HAI-FieldTeam@doh.wa.gov
206-418-5400
Public Health Laboratories main number for questions or scheduling