Washington State's Most Popular Baby Names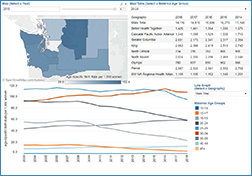 The Department of Health is transforming how we present data. We want to provide the public with information that is easy to interact with and easy to visualize. We created new visualization dashboards that allow users to:
Interact with charts, maps, and graphs
Export the data as a spreadsheet.
Access the new Birth dashboards
Note: The Center for Health Statistics will no longer update Washington State resident birth Excel tables. We now display the Excel table information on the data visualization dashboards.
Boys
Liam tops the boy's names in 2016, replacing Oliver taking second. Liam has been in the top two names since 2011. New to the top-ten are Ethan and Elijah who were eighth and ninth respectively. Logan and Samuel moved out of the top ten.
Girls
Olivia has been a top-ten name for girls since 2001 and is number one in 2016 for the third consecutive year. New to the top ten are Amelia and Abigail. Moving out of the top-ten are Isabella and Emily.
In addition to the information on this page, you can find more information about popular baby names from the Social Security Administration.
Baby Names
Click on a report below to see the top 100 names given to boys or girls born to Washington State residents. These reports offer years from 1980 through 2016. When the report is open, click on a tab at the bottom of the page to select a different year.