Falls are the leading cause of injury-related death and hospitalization among adults age 65+. Although falls are common, they are not a normal part of aging and most falls can be prevented. The Washington State Department of Health is taking action to reduce fall-related deaths and injuries in all regions of our state.
Finding Our Balance: 2018 Washington State Action Plan for Older Adult Falls Prevention (PDF) is a five-year plan with six strategy areas of focus. Read the plan to learn about the impact of falls on older adults and their communities and discover ways you can get involved in falls prevention.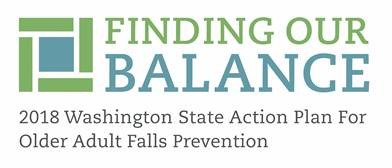 Finding Our Balance has six strategy areas for preventing falls in Washington:
Strategy Area 1: Strong and Effective Community Partnerships
Strategy Area 2: Public Awareness and Education
Strategy Area 3: Prevention Across the Continuum of Care
Strategy Area 4: Expanded Reach and Access to Evidence-Based Programs and Community Screenings
Strategy Area 5: Effective Interventions for High-Risk and Underserved Older Adults
Strategy Area 6: Improved Safety in Homes and Communities
The plan also includes goals under each strategy area, and outcomes measures for falls-related deaths and hospitalizations.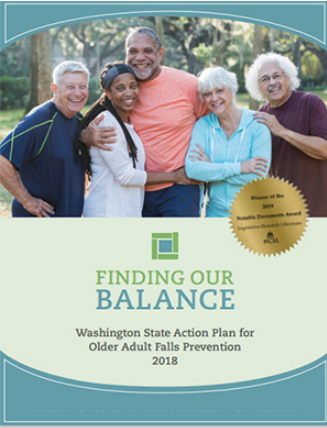 Year End Report 2020: Finding Our Balance: Washington State Action Plan for Older Adult Falls Prevention is now available. Thank you to everyone who provided information for this report. Please note this document is only available electronically. Year End Report 2020: Finding Our Balance (PDF)
Are you interested in getting involved? Workgroups for plan strategy areas are recruiting members to share their expertise and insight; professionals and volunteers working with older adults are encouraged to join. Contact us.
Contact and Connect
Contact us | To get important information about older adult falls, select the "Subscribe" button at the bottom of the page and then search for "Finding our Balance."