App Features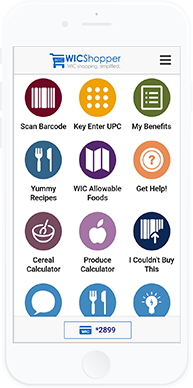 Scan foods using Scan Barcode to see what is WIC allowed.
View the WIC Allowable Foods list.
Use I Couldn't Buy This! to report a food that you think is WIC allowed and you can't buy at the store.
Use the Farmers Market Nutrition Program button to find out where and how to use your farmers market checks.
Look for Yummy Recipes!
Register your WIC Card and use My Benefits to see your latest benefit balance.
Find a WIC Office or a WIC Store.
Use the Produce Calculator and Cereal Calculator while you shop.
Shopper App Tips
Know your WIC food benefits
You're only allowed to buy foods in your WIC food package. Even if a food scans "WIC allowed," it may not be allowed for you to buy as part of your WIC benefits. For example, canned fish must be listed in your food package for you to buy it at the store. You have to have your WIC Card registered in your app or the app won't know what items are allowed in your family's food benefits....
Individual WIC benefits and WICShopper app
If you have a WIC Card, you can register it to your WICShopper app. Once registered you'll have access to:
Up-to-date WIC food benefit balances.
Notifications when benefits are about to expire.
Ability to scan food items and know:

Is this a WIC allowed item?
Can I purchase this with my current benefit balance?

Updated Cereal and Produce calculators to help keep track of and use benefits.
Fresh fruits and vegetables
Fresh fruits and vegetables will scan as "Not a WIC Item" even though most fresh produce is WIC allowed. Check out WIC Allowable Foods on your app for any rules about buying fresh fruits and vegetables.
Search for WICShopper in your app store or tap an image below.
Install the WICShopper app from your app store.
Select Washington.
Register your WIC Card:

If you don't have a card, select Do Not Register. You can still use most of the app features.
If you have a card, enter in the card number on both lines and select Register Card (PDF).

Start using the app features.
WICShopper app Information Card (PDF)
View other languages