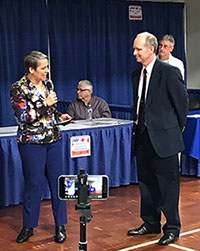 Hire-A-Vet Award - received by Marc Defreyn, Executive Sponsor, DOH Veterans Employee Resource Group
The Department of Health welcomes veterans!
In 2018, we hired 21 transitioning veterans and received the Employment Security Department's Hire-a-Vet Award. We are proud participants in the state's YesVet program and hired three people through the Joint Base Lewis-McChord Camo2Commerce Program.
We created a military-to-civilian health professions tool that helps veterans obtain credentials for 35 health professions. The tool has been used to issue over 400 health credentials to active, Reserve and National Guard personnel and to more than 2,800 family members since 2013.
Below are some members of our Veterans Employee Resource Group. This group provides advice and assistance to management and hiring managers on recruitment, retention, and development of strategies in accordance with the Governor's Executive Order on Veterans Transition Support 13-01 (PDF).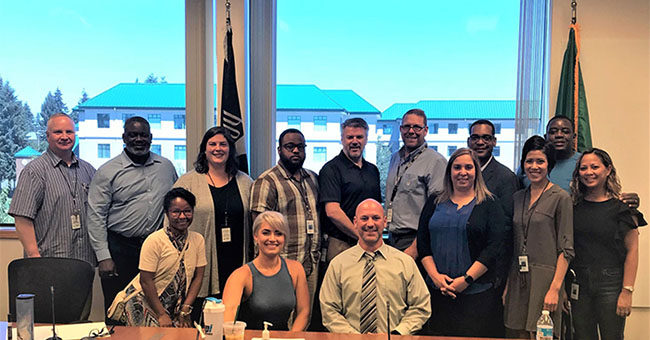 Our Employees Share
Jay Stephen, SGM(R) U.S. Army

From the outside, I assumed the Department of Health didn't need someone with my background. But with over 1,800 employees and such a broad scope of work, DOH needs a wide range of skills. Our Veterans Employee Resource Group helped me integrate my experience, values, and knowledge into my work here. I really value the opportunity to help other vets in this way and appreciate working for an employer that makes this a priority.

Danton Thompson, Veteran, SPC, U.S. Army

Having been out of the military for one year, rejoining the civilian workforce was a bit strange for me. DOH is very much its own community like the military, but the neighbors are much easier to love, I'd say. I work at the DOH as the Payment Card Industry Data Security Standard Program Administrator and Public Records Technician. Both positions give me the opportunities to bring my love of IT and rules to this organization and help out in an important way. I am quite proud that I have been accepted here and that I am trusted to be a part of significant undertakings.

Mariely Norris, Veteran, SSG, U.S. Army

I joined DOH in 2015 and am now a Planning and Improvement Analyst for the Office of Assistant Secretary in Health Systems Quality Assurance (HSQA) division. I serve as an agency expert on HSQA strategic planning, performance management, quality improvement, and continuous process improvement activities that are high visibility and sensitivity and have the authority to act on behalf of the agency.

Bruce Wirth, SSG(R) U.S. Army

When I retired from the military in 2016, I was nervous about working for another organization. After 20 years, I had grown accustomed to the traditions and customs of the military and served alongside others with the same sense of service. That's why I constantly work here at DOH to build strong connections with my fellow coworkers. While we may speak and think differently, I've found most of my new colleagues are welcoming and share my enthusiasm and passion for public service.