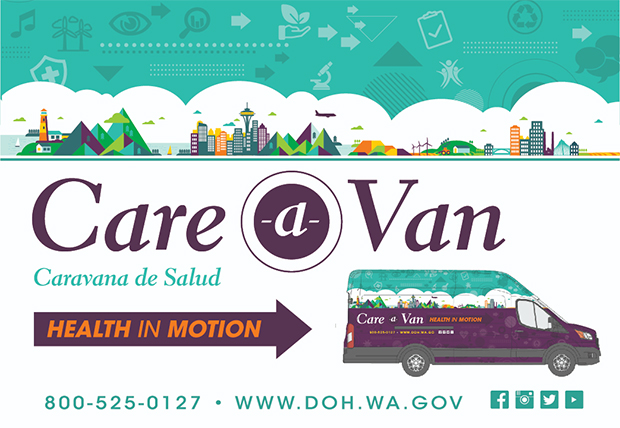 The Care-a-Van is a mobile COVID-19 vaccination clinic that serves people across Washington state. We work closely with community partners and local health jurisdictions (LHJ) or departments to increase access to vaccine for priority communities. To submit a request to have a DOH Care-a-Van at your event, please fill out the online form below and someone will reach out to you within 5-10 business days from the date of submission. 
To help us better coordinate, we ask that you submit your requests at least 15 days in advance of the event. You do not need to have all the event details finalized before submitting a request form. Requests will be fulfilled based on Care-a-Van staff and vaccinator availability. For questions about the Care-a-Van, email care-a-van@doh.wa.gov.
Click the "Submit an online form" button below to submit a request. To request this form in another format or language, please email equity@doh.wa.gov or call 800-525-0127. Language assistance is available.
Site Prioritization
The Care-a-Van serves communities most impacted by COVID-19. Requests that cover multiple areas below will be given higher priority:
Counties with higher vaccine gaps by race/ethnicity.
Communities with a high rank on the Social Vulnerability Index (SVI) for COVID-19.

Social vulnerability refers to the potential negative effects on communities caused by external stresses on human health. Such stresses include natural or human-caused disasters, or disease outbreaks. Reducing social vulnerability can decrease both human suffering and economic loss. Learn more about how the CDC uses the SVI. Learn more about the DOH Social Vulnerability COVID-19 Map.

Areas with recent outbreaks.
Communities overrepresented in COVID-19 cases, hospitalizations, and deaths.
Demographic groups with lower vaccination rates compared to other groups.
Groups not represented or underrepresented in current DOH data systems that have likely experienced COVID-19 health disparities and vaccine inequities.
Areas that have not had a visit from the DOH Care-a-Van.
Requests submitted at least 14 days prior to the date of the event.
Frequently Asked Questions
Where can I find a Care-a-Van clinic?

Who can request a Care-a-Van?

Any organization can request a Care-a-Van. However, priority is given to community-based organizations, especially those that reach communities and groups most impacted by COVID-19.

Will every request receive a Care-a-Van?

Requests will be fulfilled based on Care-a-Van staff and vaccinator availability. Please note that although we would like to support every request by providing the Care-a-Van:

Requests may be fulfilled by the local health jurisdiction (LHJ) or health department as part of our practice of collaboration and coordination.
Requests may be fulfilled solely by one of our vaccine contractors.
Requests may not be fulfilled if they are submitted with less than two weeks' notice.
Requests may not be fulfilled if multiple COVID-19 vaccine clinics are already available in that geographic area.
Requests may not be fulfilled if we have multiple conflicting events.

To help increase the likelihood of being supported by the Care-a-Van, please submit your requests at least 15 days in advance of the event.

How will I know if my request will be fulfilled by the Care-a-Van?

Within 5-10 business days you will receive an email confirming the type of support you will receive (Care-a-Van, vaccine contractor, or local health jurisdiction/department). We will then coordinate a brief planning call to discuss the logistics of your event and make sure we have all the information we need to plan for a successful clinic.

How many attendees are required to hosts a Care-a-Van?

We choose events by prioritizing communities and groups who are most impacted by COVID-19. Please fill out a request form regardless of how many people you think may attend your event. If the Care-a-Van is not the ideal option based on the event size, we will work with you to find vaccine options that will work.

What type of space is needed to host a Care-a-Van?

The Care-a-Van comes with all the necessary equipment and supplies to host outdoor events. However, we can set up indoors if that is preferred. For outdoor events, we would like to have enough space for at least two 10x10 canopies/tents and some extra space for patient observation.

For indoor clinics with tables and chairs available, the team may show up without the van. This way the van can be sent to clinics that need the outdoor equipment.

What vaccines are provided through the Care-a-Van?

At this time the Care-a-Van can bring Pfizer and Moderna for ages 6 months and older. We provide first, second, booster and second booster doses. Learn more about COVID-19 vaccines.

What are the roles and qualifications of the Care-a-Van team?

The Care-a-Van team is made up of Department of Health (DOH) staff and our contracted vaccine providers.

The DOH staff are responsible for driving the van (when needed), bringing supplies, providing incentives, assessing community member needs, and helping set up and break down the clinic.

The contracted vaccine providers are made up of doctors, nurses, and medical assistants that administer the vaccines. Additional contracted staff handle administrative duties, such as patient registration, filling out vaccine cards, and overseeing the observation area.

What additional support is provided by the Care-a-Van?

The Care-a-Van Community Outreach Workers can help develop promotional materials for the event and conduct outreach to community partners in the area. The Care-a-Van team can also bring incentives to the events (upon availability) to help increase attendance.

What support is needed from the requesting organization/host?

The Care-a-Van is self-sufficient in its ability to operate a mobile vaccine clinic; however, support is always appreciated. Requesting organizations play a vital role by providing the clinic space/venue and promoting the event. Requesting organizations can also support by providing volunteers, assisting with translating/interpreting, and having water and light snacks for attendees.