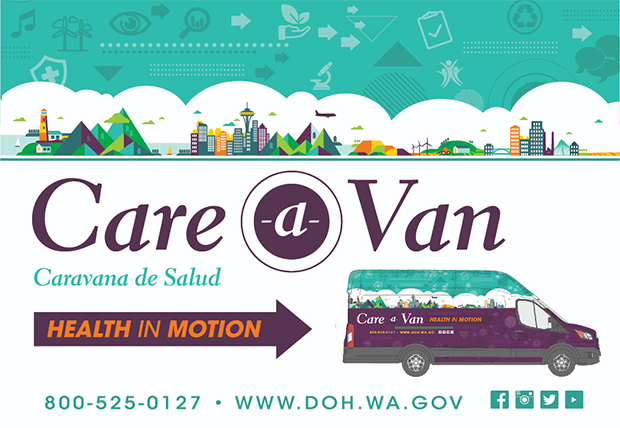 The Washington State Department of Health (DOH) is launching a new mobile COVID-19 vaccination effort across Washington state. We will work closely with community partners and local health jurisdictions to increase access to vaccine for priority communities. To submit a request to have a DOH Care-a-Van at your event, please fill out the form below and someone will reach out to you within 5 business days from the date of submission.
To maximize scheduling efforts, we ask that you submit your requests 30 days in advance of the event. Submission of request does not guarantee attendance but is based on availability.
All funding for the All In Washington small grant opportunity has been fully allocated and the request for this funding has closed. We apologize for any inconvenience.
Click the "Submit an online form" button below to submit a request for event support. To request this form in another format or language, please email equity@doh.wa.gov or call 800-525-0127. Language assistance is available.
Site Prioritization
The Care-a-Van serves communities disproportionately impacted by COVID-19. Requests that cover multiple priority areas below will be given higher priority:
Counties with higher vaccine gaps by race/ethnicity.
Communities with a high rank on the Social Vulnerability Index (SVI) for COVID-19.
Sectors with recent outbreaks.
Communities overrepresented in COVID-19 cases, hospitalizations, and deaths.
Demographic groups with lower vaccination rates compared to other groups.
Groups not represented or underrepresented in current DOH data systems that have likely experienced COVID-19 health disparities and vaccine inequities.
Geographic locations that have not had a visit from the DOH Care-a-Van.
Frequently Asked Questions
Is there a minimum or maximum number of attendees needed to organize a Care-a-Van event?

We choose events by prioritizing communities and groups who are disproportionately impacted by COVID-19. Please fill out a request form regardless of how many people you think may attend your event. If the Care-a-Van is not the ideal option based on the event size, we will work with you to find vaccine options that will work.

Who is staffing the van? If they are guardsman, are they in uniform?

The National Guard will not be used for Care-a-Van activities. The Care-a-Van will use DOH staff and our contracted vaccine providers and volunteers.

How far in advance do we need to make a request for the Care-a-Van?

If you make your request early, the Care-a-Van is more likely to be available. If possible, we ask for 30 days notice to help with event planning. Please send your request for your event as soon as you know you are interested. You do not need to have all the event details finalized before submitting a request form.

Does the DOH Care-a-Van team need support from Local Health Jurisdictions?

DOH would love to partner with LHJs on requests that we receive. To the degree that LHJs would like to be involved, DOH is interested in partnership, event promotion, and other coordination for any event in their county.

What recruitment or outreach is needed ahead of time for the event?

The event requestor or community partner host is best positioned to lead recruitment and outreach by using their existing networks and channels. DOH can support with any partnerships it has with local community organizations as well.

How will the DOH Care-a-Van team work with trusted key messengers for the event?

The Care-a-Van is set up for local partners to request vaccine services for their planned event. DOH would then look to the requestor to ensure trusted key messengers local to the community are engaged to ensure the event they are planning is successful and the community is reached.

Can employers and businesses request the Care-a-Van?

Yes, employers and businesses can submit a request form for the Care-a-Van. Please indicate "employees" in the "communities reached" section of the form. We will prioritize the Care-a-Van for events that reach communities and groups most impacted by COVID-19, and some employers or business sites may be great sites for a Care-a-Van. In addition, we have options to connect different sites, organizations, and businesses to vaccine through our public-private partnership and other vaccination partners. We encourage any organization or business interested to submit an event request form.

Will the Care-a-Van come back for second doses?

The Care-a-Van will coordinate with local partners to ensure people who receive their first dose from the Care-a-Van have instructions on how to receive their second dose locally. The Care-a-Van can only return for a 2nd dose if an additional request is made for a future event.

Is the Care-a-Van only doing large events?

No, the Care-a-Van will consider all events based on its prioritization criteria to reach communities and groups most impacted by COVID-19.

Will people get vaccinated inside of the Care-a-Van?

No, all services of the Care-a-Van will take place outside of the van. The van will primarily be used for safe vaccine transport and storage of supplies.

Will the Care-a-Van bring the vaccine and staff?

The Care-a-Van will bring both staff and vaccine. Depending on the size of the event, additional volunteers to administer vaccine and general clinic volunteers from local partners can be utilized if needed.

After I submit a request, how will I know if the Care-a-Van will come to my event?

Within 5 business days, you will receive a response confirming your request and receive an update if the Care-a-Van is available for your event. We will also let you know if other mobile teams from DOH, public-private partners, vaccination partners, or local health departments will be available for your event. We appreciate your patience as we process requests from all across the state.

Please note that although DOH would like to support every request by providing the Care-a-Van:

Requests may be fulfilled by the local health department as part of our practice of collaboration and coordination.
Requests may be fulfilled solely by a DOH vaccine contractor.
Requests may not be fulfilled if they are submitted with less than two weeks' notice.
Requests may not be fulfilled if multiple COVID-19 vaccine clinics are already available in that geographic area.
Requests may not be fulfilled if DOH does not have available resources due to multiple conflicting events.

Does the Care-a-Van do home-bound visits?

The Care-a-Van does not do home-bound visits to administer vaccine. If you require special access transport or are otherwise unable to leave home for any reason to get your COVID-19 vaccine, please request in home vaccination for your-self or someone you care about through this form: https://redcap.link/WA_HomeBasedVax or call 1-833-VAX-HELP (833-829-4357) then press #. Language assistance is available.

Where can I find the Care-a-Van?