Trauma is the leading cause of death in people age 1-44 and the leading cause of long-term disability in the United States is stroke. For those that survive their injuries many have lifelong disabilities with significant impacts to their daily activities. Helping these patients return to a more pre-injury or disease state improves their quality of life and limits the socioeconomic impact.
Inpatient rehabilitation facilities are often where patients can receive care after their acute hospital discharge. In Washington, there are 10 designated facilities that specialize in caring for patients following an injury or other disabling medical condition such as stroke, myocardial infarction, brain disease, and cancer. They have specialized clinical resources and equipment available to help patients regain their function and limit their disability. A complete list of these facilities, specialty services they provide, and consulting information is online (Excel).
All designated trauma rehabilitation services are required to be fully accredited with the Commission on Accreditation of Rehabilitation Facilities (CARF) which is a nationally recognized organization that sets vigorous standards of care. CARF accreditation ensures rehabilitation services are functioning at the highest level and patients are receiving quality care. The benefits of rehabilitative care following injury have been widely published and were recently highlighted in an award-winning research paper published by University of Washington in conjunction with the Department of Health (Nehra et al., 2016). Nehra used Washington state trauma rehabilitation data to demonstrate improved functional outcomes of injured patients following admission at local designated trauma rehabilitation hospitals. The study highlights the importance of these post-acute services and the impact they have on improving functional outcomes and limiting disabilities.
The Washington State Department of Health has authority to designate trauma rehabilitation services. The designations include two levels of adult and pediatric trauma rehabilitation services (Levels I and II). Every three years facility staff may voluntarily apply to become designated. More information about trauma services designation can be found here.
There are currently nine designated trauma rehabilitation facilities in Washington. The map below highlights their location and designation level.
Level I Trauma Rehab
Harborview Medical Center (Seattle)
Multicare Good Samaritan Hospital (Puyallup)
Providence St. Luke's Rehabilitation Medical Center (Spokane)
Seattle Children's Hospital (Seattle)
Level II Trauma Rehab
Lourdes Medical Center (Pasco)
PeaceHealth Southwest (Vancouver)
Providence Regional Medical Center (Everett)
Providence St. Mary's (Walla Walla)
Wenatchee Valley Hospital/Rehab Center (Wenatchee)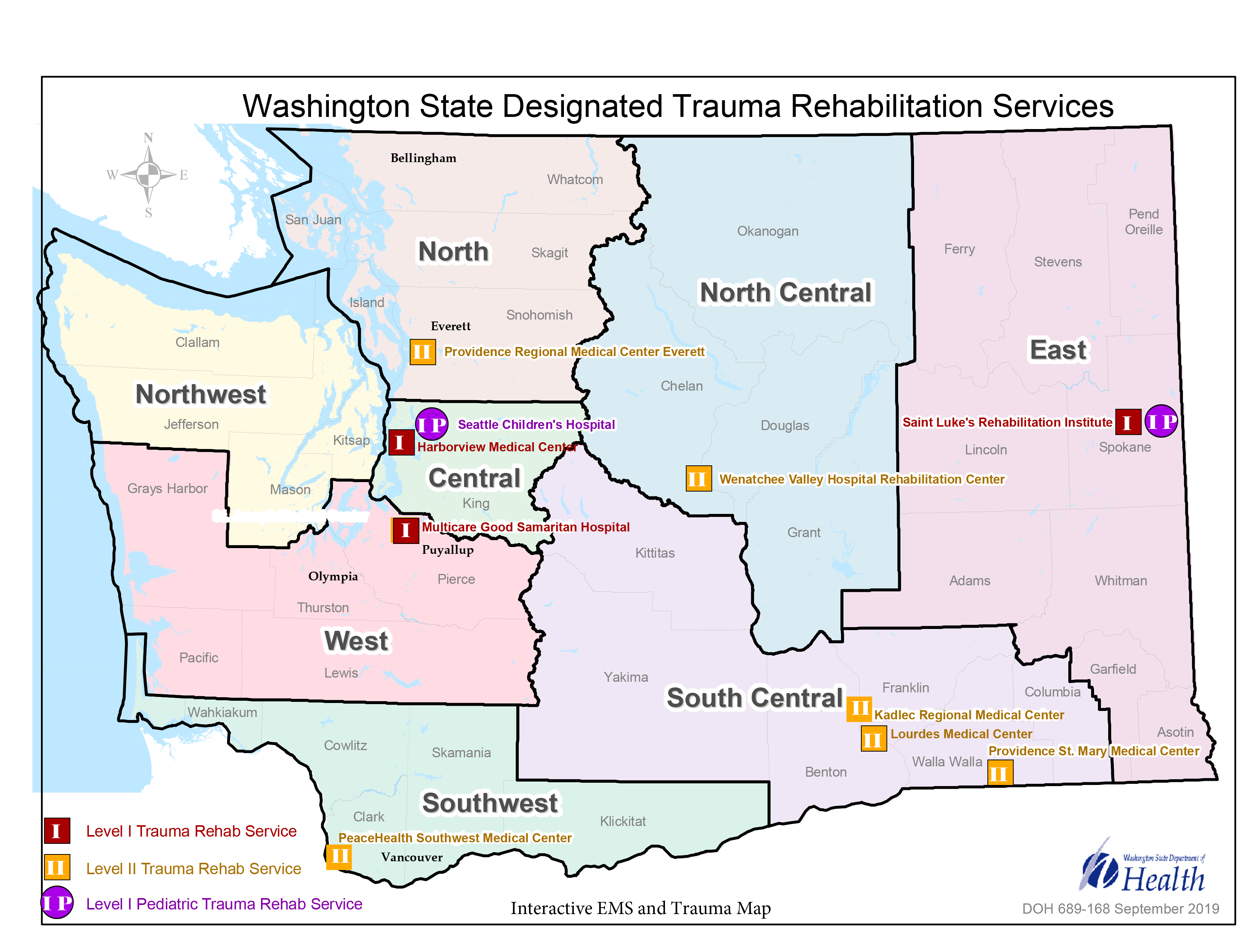 Print version of Washington State Designated Trauma Rehabilitation Services map (PDF)