Update to HPV Forecast
On January 20, 2023, the Washington State Immunization Information System (IIS) updated the human papillomavirus (HPV) forecast to start at age nine. Read more about this change and find important resources. 
HPV Continuing Education
Check the Centers for Disease Control and Prevention website for a current list of free continuing education courses, for credit, which provide guidance on how to have an effective conversation with parents about HPV vaccination.
HPV Vaccine Safety
HPV Vaccine Recommendations
HPV Vaccine Coverage Data
HPV and Cancer
HPV Toolkits for Your Practice
HPV-HIV Provider Toolkit
Details: People who are HIV-positive or immunocompromised are at greater risk for HPV infection. Providers can help protect this population by routinely recommending and administering HPV immunization. The materials in this toolkit will help providers start the conversation and strongly recommend HPV vaccine to their HIV-positive and immunocompromised patients.
Target Audience:
Healthcare providers and health educators
Individuals who have HIV infection or are immunocompromised
Other agencies and organizations
Toolkit Contents:
2021 HPV Dental Toolkit
Details: The Massachusetts Oral HPV Task Force developed the first HPV dental toolkit in 2016 to improve HPV knowledge for dentists. Since then, it's used in dental outreach across Massachusetts and has been successfully adapted in seven states.
A newly launched version of the toolkit is now available, and its design reflects feedback from users and provides the most up-to-date recommendations. It also includes internal training materials on how to recommend the HPV vaccine, as well as in-office communication materials. Click here to access the free, downloadable toolkit. Stay tuned for additional languages and printed copies!
HPV infection can lead to oral cancers. Oropharyngeal cancer in men is rising sharply in recent years. Oral healthcare providers are in a great position to explain the risks of HPV and oral cancer and empower their patients ages 9 to 26 to get the HPV vaccine.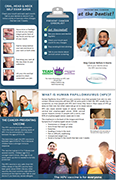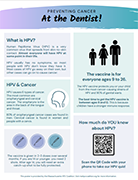 Other HPV Dental Resources:
Additional HPV Materials for Your Practice and Your Patients
HPV vaccine is cancer prevention. (Questions, answers, and materials for parents, adolescents, and young adults from the Washington State Department of Health)
HPV at 9 Parent Poster

English

Additional Languages

Español - Spanish

中文 - Chinese

Kajin Ṃajōḷ - Marshallese

Русский - Russian

Українська - Ukrainian 

Tiếng Việt - Vietnamese

Customizable Reminder/Recall Card – Your Adolescent is Due for a Health Checkup! (includes HPV, Tdap, and meningococcal reminders)
HPV Reminder Dose Cards
HPV cancers are preventable (CDC)
In CDC's video series, real pediatricians use their expertise to answer parents' questions about the HPV vaccine and why it's important for preventing cancer. (CDC)
HPV vaccine: State legislation and regulation (National Conference of State Legislatures)
Social Media Samples for HPV