2023 Immunize Washington Awards
The 2023 Immunize WA Awards were released on August 14, 2023. Below you can find a link to view this year's winners. All awardees, including bronze level, will receive an official certificate and window cling display for their clinic, to honor their achievement. Congratulations to all awardees and thank you for your efforts in keeping Washington families healthy!
Not on the list and would like to improve your rates for 2024? Consider engaging in an
IQIP
visit!
IQIP/Immunize WA Timeline Guide (PDF)
About the Health Plan Partnership & Immunize WA
The Health Plan Partnership, putting together the annual Immunize WA Awards, is a cooperative alliance of the Department of Health (DOH), Health Care Authority, Governor Jay Inslee, and all the major health plans in Washington.
2023 marks the ninth year the Health Plan Partnership has hosted the Immunize Washington Awards. This program recognizes clinics that reach immunization rates of 70 percent or higher in child and adolescent patient populations. View the resources below to learn how to improve immunization rates and become a recognized Immunize WA Awardee in 2024!
2023 Immunize Washington Awardee List (PDF)
For questions please email immunizewa@doh.wa.gov.
What is Immunize Washington?
Immunize Washington is a partnership between public health, health plans and other organizations that aims to:
Image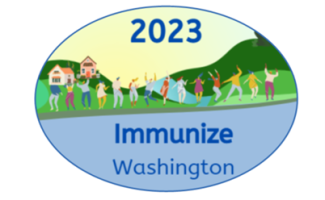 Increase immunization rates at the clinic level by using best practice tools and the Washington State Immunization Information System (IIS).    
Support activities to provide on time vaccination to children and adolescents.    
Encourage clinics to measure their immunization rates so they know where they are doing well and areas to improve.    
Engage in immunization quality improvement activities.    
Help Washington meet national goals for child and teen vaccines.
Past Immunize Washington Awardees
Tools for Providers
Understanding Your Coverage Rates

Improving Immunization Rates

Vaccination Communications

Immunize WA Partners

Health Plans:

Other Partners:
Need Help or Have Questions?
Contact the Washington State Department of Health's Office of Immunization and Child Profile.