The Basics
To reduce your chance of getting sick, wash your hands often and do not touch your eyes, nose, or mouth. If done right, cleaning and disinfecting can also help keep you healthy. Many cleaning supplies and household products contain chemicals that can cause health problems like eye or throat irritation and headaches. Repeated exposure to chemicals may also cause chronic problems like asthma, cancer, or respiratory and cardiovascular disease. Thorough cleaning with plain soap and water is often all that is needed.
Cleaning: Removes dirt, organic matter, and germs from surfaces using soap or detergents.
Sanitizing: Reduces bacteria on surfaces using chemicals or heat. Not intended to kill viruses.
Disinfecting: Kills viruses and bacteria on surfaces using chemicals. 
Personal Hygiene
Wash hands often with soap and warm water for at least 20 seconds. 
Always wash your hands after going to the bathroom; before eating; after coughing, sneezing, blowing your nose, touching public surfaces or touching animals; and when they are dirty. 
Be sure to wash your hands with soap and water after handling chemicals, even if you used gloves.
If soap and water aren't available, use a generous amount of fragrance-free and dye-free hand sanitizer with at least 60 percent alcohol. Wash your hands as soon as you can. Hand sanitizers don't remove contaminants like feces, dirt, and pesticides. They also don't kill all organisms of concern like norovirus. Washing your hands thoroughly removes contaminants and organisms.
How to Clean 
Clean with soap and water. You don't need fancy cleaners to do the job. Regular soap gets rid of germs. 
Use the right tool rather than a chemical. Wipe surfaces with a microfiber or cotton cloth, and scrub with a pad or brush. Remove debris in the drain with a drain clog cleaning tool.
Clean surfaces that are dirty or touched often. 
Kitchens: Clean counters and sinks regularly. Use hot water and soap on surfaces and items that touch raw animal products.
Toilets: Scrub with soap and disinfect if someone is sick. Always shut the lid before flushing!
Use a laundry machine for fabric or plush items. Fabric furniture can be wiped down. Rugs and drapes need only light cleaning. Follow the manufacturer's instructions, use the warmest water possible, and dry completely. These items are difficult to disinfect and don't usually need it.
To clean carpets, use hot water/steam extraction. Spot treat as needed first. Use the smallest amount needed of low-odor and low-sudsing carpet shampoo. Remove all cleaner and dirt until the rinse water is clean. Dry thoroughly within 24 to 48 hours to prevent mold growth.
Keyboards and Sensitive Electronics: Wipe items with alcohol wipes or 70 percent isopropyl alcohol sprayed onto a cloth. Use a separate area of the cloth for each device. Wash and dry the cloths after use. Wash hands before and after using electronics and do not touch your face while using.
Children's Toys: Wash soft or porous toys in the warmest water appropriate for the item and dry completely. Use soap and water to clean hard plastic toys. 
How to Disinfect
Disinfect only when needed. In most situations, cleaning is all you need to do. If someone is ill or there is vomit or feces to clean up, clean surfaces first with soap and water and then apply a safer disinfectant.
Read the product label. Follow the instructions on how to apply the product. Wear gloves, a mask, and other protective gear as recommended.
The label will say how long the surface must stay wet to be effective.
Keep chemicals away from children. Follow the label directions for food contact surfaces if disinfecting toys that small children put in their mouths.
Never mix cleaning products. See dangers of mixing bleach.
Always work in fresh air by opening doors and windows or using exhaust fans.
Do not use fogging, fumigation, or wide area spraying to control the spread of germs. It's safer and more effective to focus cleaning and disinfection on the surface.
For more tips, see CDC's Disinfecting. 
Choosing Safer Products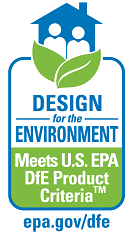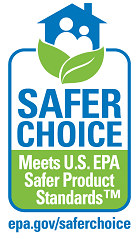 Cleaners: Use plain fragrance-free and dye-free soap or detergent. Many people report headaches and respiratory problems around fragranced products. Look for EPA's "Safer Choice" logo with the "Fragrance Free" notation or search for "Safer Choice" products. Avoid antibacterial or antimicrobial soaps. They aren't necessary and promote microbial resistance. 

Try making your own cleaners with simple ingredients (PDF)

.
Disinfectants and sanitizers: These are pesticides. They can cause health effects, harm the environment, and promote antibiotic resistant organisms. If you need them, only use EPA registered products. Look for the EPA's "Design for the Environment" logo. Lactic acid, citric acid, ethanol, or hydrogen peroxide products are safer.
Avoid products with DANGER or POISON on the label. Seek out products that do not leave residues and that are not corrosive, irritating, or toxic. Common chemicals to avoid are bleach, quaternary ammonium compounds, benzene, hexanes, and phenols.
More Resources
Extra Tips
Leave your shoes at the door to avoid tracking in dust and pollutants.
Vacuum and damp dust with microfiber cloths often. Use a vacuum cleaner with a HEPA filter.
Keep surfaces dry and prevent condensation.
Open the windows when it's safe and use exhaust fans to remove moisture and volatile organic compounds (VOCs). See guidance on Ventilation and Air Quality for Reducing Transmission of Airborne Illnesses (PDF).
 
Contact Us