As part of the Office of Drinking Water's implementation of the federal Public Notification Rule, this page assists purveyors in communicating important water system information to non-English speaking populations. It consists of four basic drinking water messages, which have been translated into twenty-seven different languages. See our Public Notification page for more information on requirements for water systems.
The translated phrases are image files (JPG) to prevent accidental changes to the text. Right-click on the desired language link and choose the option similar to "save target" and save to a folder on your computer. You can also click the desired link, view the image, right click on the image and choose the option similar to "save picture as." You can then import the image into a document and resize it as needed.
All the translated phrases below are also available as a Word document. You can copy the phrases out of the Word document for use in other materials. Some are images and some are text. Care should be taken to prevent accidental changes to the text versions when copying. View 331-246 Translated Drinking Water Warnings (.docx).
"This report contains important information about your drinking water. Have someone translate it for you or speak with someone who understands it."
"Boil your water before using."
"Don't drink the water."
"Children under 12 months old should not drink the water. Don't use the water to make formula."
The water glass and faucet may be useful in a posted notice that would be seen by many non-English speaking people to illustrate that they should not drink the water.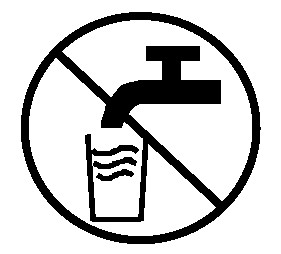 Glass with faucet graphic (JPG)