Controlling Water Loss
Quick links to information on this page:
Pilot Program to Reduce Water Loss
Ten water systems worked with national water loss control experts using AWWA methodology and best practices. They gathered and validated water loss accounting data. Read the WUE Water Aduit Report (PDF) to learn more.
Training and Resources
2017 North American Water Loss Conference:
Description: The California-Nevada Section AWWA and Alliance for Water Efficiency and the NAWL 2017 Conference Planning Committee hosts the 2017 North American Water Loss Conference. Discussions will take place over two days on developing water loss policies, auditing your system, reducing apparent losses, controlling leakage, managing pressures, and documenting your progress, both for you and for your regulators.
Improving Your Operations and Reducing Costs by Evaluating Water Use Data: Listen to the recorded Webinar (registration required.)
Terminology
When you submit your annual water use efficiency reports, you must provide metered information (total production and authorized consumption).
Did you know?
Each year, 6 to 8 percent of the water systems in Washington report they sold more water than they pumped, resulting in negative leakage!
Worldwide, fire fighting uses 0.4 to 0.9 percent of the total production.
In 2011, Washington water systems lost about 26 billion gallons of municipal water supply to physical leaks, poor accounting, and other unauthorized consumption.
If You Can't Measure It, You Can't Manage It
In order to effectively manage real and apparent water loss, your water utility should be able to answer several questions:
Water Audit Method
Still not sure where your water's going? Many other states are using a new industry standard to evaluate water loss by completing a water audit derived from the American Water Works Association (AWWA) and the International Water Association (IWA). Download the water audit software.
Use the chart below to better understand water audit terms (PDF).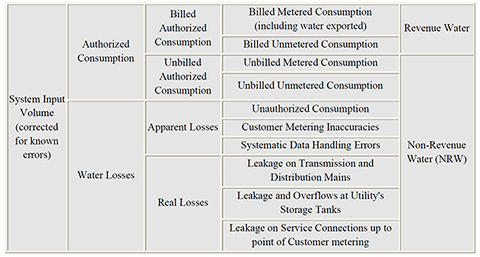 Funding Your Leak Repair Projects
Fixing leaks means saving water and saving energy. You can also get paid to save energy while fixing leaks at the same time.
For More Information:
Contact Mike Means, 360-236-3178