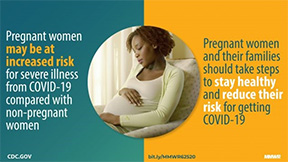 Pregnant people may be at greater risk for severe illness from COVID-19 and should do what they can to stay healthy and avoid getting COVID-19. Pregnant women and their families should take steps to stay healthy and reduce their risk for getting COVID-19.
We are learning more every day about COVID-19 and how to care for people during pregnancy, birth, and postpartum. See the following resources for information about COVID-19, pregnancy, and nursing:
Additional Resources - Pregnancy, Birth, and Caring for your Newborn
More COVID-19 Information and Resources
Stay up-to-date on the current COVID-19 situation in Washington, Governor Inslee's proclamations, symptoms, how it spreads, and how and when people should get tested. See our Frequently Asked Questions for more information.
The risk of COVID-19 is not connected to race, ethnicity or nationality. Stigma will not help to fight the illness. Share accurate information with others to keep rumors and misinformation from spreading.
Have more questions about COVID-19? Call our hotline: 1-800-525-0127. For interpretative services, press # when they answer and say your language. (Open from 6 a.m. to 10 p.m.) For questions about your own health, COVID-19 testing, or testing results, please contact your health care provider.