The Special Projects Team (SPT) conducts outreach and partnership engagement projects and activities. We work to prevent COVID-19 and other healthcare-associated infections in Washington state.
Team members partner with:
Healthcare Associated Infections and Antibiotic Resistance (HAIAR) staff
department offices
local health jurisdictions
local, state, and federal agencies
long-term care associations and partners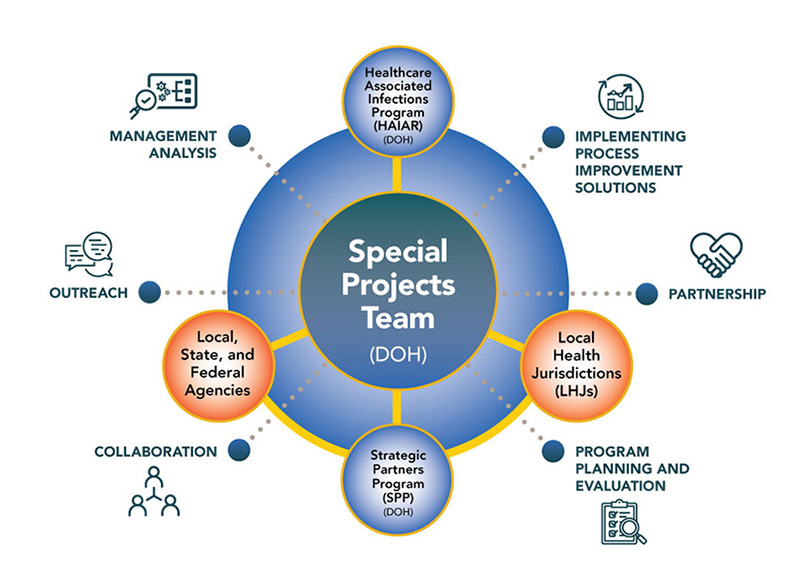 The SPT:
offers information to staff and internal and external customers on HAIAR partnerships issues.
supports program planning and evaluation, develops materials, and gathers partners for HAIAR projects.
uses process improvement, leads multidisciplinary project teams, facilitates varied groups, and provides help with strategic and long-range planning.
The SPT is also part of the Strategic Partners Program (SPP).
The SPP supports COVID-19 and other healthcare-associated infections prevention work in Washington state. They work to strengthen connections between the department and external partners.
The Special Projects Team supports DOH's ELC Strengthening HAIAR Program Capacity (SHARP) grant with the CDC. The SPT's support includes:
helping develop and manage vendor contracts
maintaining project tracking tools; and
managing budgets.
Our Team
Bonita Campo
HAIAR Special Projects Unit Supervisor
bonita.campo@doh.wa.gov
Andrea Een
LHJ Coordinator
andrea.een@doh.wa.gov
Jamie Ford
Outreach Partnership Coordinator
jamie.ford@doh.wa.gov
Tess Harpur
Healthcare Student Engagement Coordinator
tess.harpur@doh.wa.gov
Past training opportunities
Washington State Long-term Care Training for Local Health Jurisdictions
June 22, 2023, The Department of Social and Health Services and the Department of Health, in collaboration with the State Office of the Long-term Care Ombuds and representatives of long-term care facilities, have developed training materials to educate the leadership and staff of local health jurisdictions on the state's long-term care system. 
October 25, 2022, the DOH and RCS hosted an hour-long webinar on the recently updated CDC recommendations for use of Enhanced Barrier Precautions (EBP) in nursing facilities. EBP is an important tool to prevent the spread of multi-drug-resistant organisms in facilities.
View the slides from the presentation (PDF)
Nursing Facilities: Enhanced Barrier Precautions Recommendations (PDF)
Templates to assist hospitals in implementing HB1739