No-smoking rules are the right decision for business and health.
Market Demand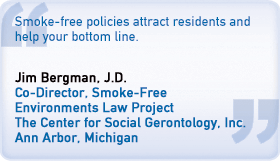 The demand for smoke-free housing in Washington state has never been higher:
About 92 percent of renters prefer to live in smoke-free housing.
More than 95 percent of non-smokers prefer to live in smoke-free housing.
75 percent of people who smoke prefer to live in smoke-free housing.
Many property owners and managers report that a no-smoking rule helps them attract and keep residents who take better care of their units. Download Smoke-free Housing: The Right Decision for Business and Health (PDF) and then Smoke-free Housing: A Blueprint to Going Smoke-free (PDF) to learn more.
Reduce Damage
Tobacco can turn walls yellow, damage carpets and leave burn marks and lingering foul odors. Consider the extra time and money it takes for cleaning, repairs and painting to turn over a smoking unit. Going smoke-free will keep your building in better condition.
Read this cost comparison chart to learn how you can easily spend up to $3,000 to turn over a smoking unit.
| | | | |
| --- | --- | --- | --- |
|   | Non-Smoking | Light Smoking | Heavy Smoking |
| General Cleaning | $240 | $500 | $720 |
| Paint | $170 | $225 | $480 |
| Flooring | $50 | $950 | $1,425 |
| Appliances | $60 | $75 | $490 |
| Bathroom | $40 | $60 | $400 |
| Total | $560 | $1,810 | $3,515 |
Prevent Fires
Residential fires caused by smoking materials cause more injuries, deaths and major property damage than any other type of fire. Across the nation in 2010, smoking-material fires caused 610 deaths, 1,570 injuries and $663 million in property damage. One in four people who dies in a smoking-material fire is not the person whose cigarette started the fire.
Lower Insurance Premiums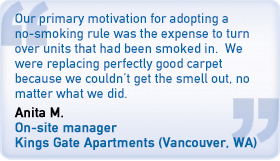 Some insurance companies provide insurance premium credits for smoke-free properties. Talk with your agent:
Ask if your current policy has a penalty (explicit or hidden) if your building is not smoke-free. Some insurers add a "debit" to the premium unless they are shown that leases for the apartment building require all units to be smoke-free.
Make an insurance premium credit a priority for discussion and negotiation with your insurer. In recent years, many insurers have dropped a number of "premium perks" due to unrelated losses in the insurance business.
Protect Re-sale Value
Smoke-free apartment buildings also maintain higher re-sale value. As the number of public places in which a person can smoke has shrunk, so has the number of homebuyers who are even willing to consider a home that has been smoked in. (National Center for Environmental Health. Healthy Homes Manual: Smoke-Free Policies in Multiunit housing (PDF). Accessed May 2012).
Reduce Liability and Protect the Health of Your Tenants
Secondhand smoke is toxic, causing an estimated 49,400 premature American deaths each year from heart disease and lung cancer. Non-smokers with serious breathing disabilities or smoke allergies also have legal protection under federal and state laws, including the Americans with Disabilities Act and the Fair Housing Act. When this is the case, landlords are required to make reasonable accommodations to protect their tenants from secondhand smoke.
In fact, courts in California, Oregon, Massachusetts, New York and Washington state have found property managers liable when they fail to address problems caused by secondhand smoke.
Download the informational graphic Smoke-free Housing: The Right Decision for Business and Health (PDF) and use it to talk about why you support no-smoking rules.