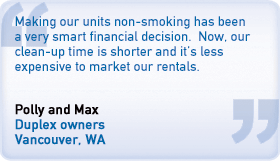 If you are having a problem with secondhand smoke, try speaking with your landlord. Here are some tips for having that conversation:
Start the conversation by sharing the Benefits of Going Smoke-free and facts about secondhand smoke and explain how secondhand smoke is affecting you.
Write a letter to your landlord requesting a no-smoking rule and include any specific issues you're experiencing with secondhand smoke.
Talk to your neighbors about secondhand smoke and build support. Chances are they also prefer smoke-free housing. Consider asking them to talk to the landlord as well.
If you have a disability that you think is related to secondhand smoke, such as asthma or smoke allergies, you may ask your landlord for "reasonable accommodations" to allow you to use your housing just like everybody else.

Reasonable accommodations might include making your building smoke-free, being moved to a non-smoking building with separate ventilation or sealing off your apartment.
Read about the Fair Housing Act (PDF) for more information.