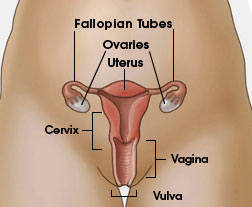 Cervical cancer occurs in the cervix. The cervix is the lower, narrow end of the uterus (womb) which connects to the vagina (birth canal). Most cervical cancers are caused by a virus called human papillomavirus (HPV).
In Washington:
Due to the availability of screening, few women get cervical cancer. However, many women are still not getting screened.
What Can You Do? Vaccinate and Get Screened!
Cervical cancer is preventable with regular screening tests and follow-up. Cervical cancer is curable if caught early and often does not cause symptoms until it is advanced. It is important to get screened even when you feel healthy.
What is cervical cancer screening?
Screening tests can help prevent cervical cancer or find it early:
The Pap test looks for changes in cells on the cervix that could turn into cancer if left untreated. It also looks for cells that have already turned into cancer.
The HPV test looks for the virus that causes these cell changes.
Both tests are done by taking cells from your cervix with a swab so they can be looked at with a microscope.
Who should get screened for cervical cancer?
Women ages 21 to 65 should get the Pap test every 3 years.
Women 30 to 65 may choose to have the Pap test every 5 years if done with an HPV test. When performed together it is called co-testing.
Women who have had the HPV vaccination should continue to get screened because the vaccine does not prevent all types of cervical cancer.
Women who had a hysterectomy due to cervical cancer.
What is the HPV vaccine?
The HPV vaccine protects girls and boys against the types of HPV that cause most cervical cancers. It protects against other cancers including oral and anal cancers. It also protects against genital warts.
Who should get the HPV vaccine?
Males and females ages 11-12.
For females who did not already get the vaccine, the recommendation goes up through age 26. Males also need the vaccine and should check with their doctor for recommendations.
Vaccination is sometimes recommended for males and females ages 9-10. Learn more about HPV and the HPV vaccine.
Additional Resources
Learn more about cervical cancer screening.
Print and share this Cervical Cancer Fact Sheet and Cervical Cancer infographic.
Learn more about Cervical Cancer Screening with the HPV Test and the Pap Test in Women Ages 30 and Older.
Check out these CDC resources to learn more about HPV and the HPV vaccine.
Visit the Breast, Cervical and Colon Health Program for information about free or low cost cervical cancer screening. Women under 40 can contact one of these family planning clinics to ask about free or low cost screenings.