What is PrEP?
Pre-Exposure Prophylaxis (PrEP) is an HIV prevention method in which HIV-negative people take a daily pill to reduce their risk of becoming infected. When used consistently, PrEP has been shown to reduce the risk of HIV-1 infection among adult men and women at very high risk for HIV infection through sex or injection drug use. TRUVADA® has been approved by the Federal Drug Administration for use in PrEP. If you are interested, your prescribing medical provider can answer your questions.
Additional information on PrEP
Interested in PrEP?
Start by talking to a provider at one of our PrEP DAP contracted facilities to find out if PrEP is an HIV prevention method that works for you. It is important to find a contracted medical provider that is willing to prescribe and knowledgeable about PrEP who can bill PrEP DAP for your medical visits, labs and medications.
More information about PrEP DAP and how to enroll
Find a PrEP DAP contracted provider
Image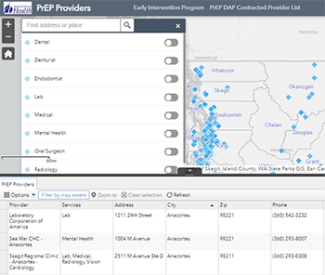 The Interactive PrEP DAP Contracted Provider Map and PrEP DAP Contracted Provider List contain the same information, displayed in different formats. When selecting a contracted provider office listed, keep in mind that there is no guarantee they are accepting new patients. Please contact the provider office you select to ensure availability and type of insurance accepted. New providers are added often so check back for updates.
Paying for PrEP
PrEP has many costs associated with it including medical visits, lab costs and medications. The document below will help you navigate resources that are currently available to help with these costs.
Paying for PrEP Decision Tree (PDF)
Pago de profilaxis previa a la exposición (PDF)
PrEP Drug Assistance Programs
There are multiple programs that exist to help in covering the cost of the PrEP medication, TRUVADA®. Each assistance program is a little different with varying eligibility criteria. It is recommended that you talk with a local PrEP Navigator to get support in applying to these PrEP Drug Assistance Programs.
Drug Assistance Programs for Truvada for PrEP
Medical, Labs & Drug Assistance
PrEP Navigators
If you have questions about accessing PrEP in your area, contact a local PrEP Navigator. They are knowledgeable about the resources and providers in your area. They can also support you in enrolling in a health insurance plan.