Download these resources to use for BE FAST stroke education and community awareness. They're free and available for hospitals, EMS agencies, public health departments, media outlets and everyone else.
Videos - English
---
eBlast Copy
To get care for stroke patients, BE FAST. See the signs? Call 911.
A stroke is a brain attack, caused when an artery in the brain is blocked or bursts — and part of the brain starts to die. Fast treatment is crucial for a better chance at survival with less disability. If you see one or more signs of stroke, BE FAST and call 911 immediately.

B: Is their balance or coordination off?
E: Do they have sudden vision change in one or both eyes?
F: Does their face droop on one side?
A: Do they have trouble raising one or both arms?
S: Do they have trouble speaking?
T: It's time to call 911.
Overcome the urge to "wait and see" – call 911 to get the care they need. What a great way to say, "I love you."
Learn more about the signs of stroke and why fast treatment is crucial at doh.wa.gov/stroke.
---
Facebook and Twitter

Facebook cover photo
Facebook cover photo- JPG download


Twitter cover photo
Twitter cover photo - JPG download
---
How to insert a custom logo
Instructions for inserting a custom logo (PDF)
---
Poster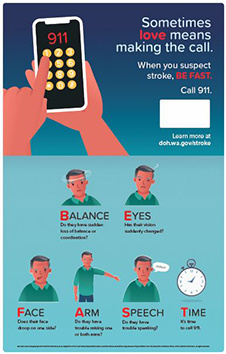 Poster - Custom Logo
Printed Material – 11" x 17"
Poster Custom Logo - PDF download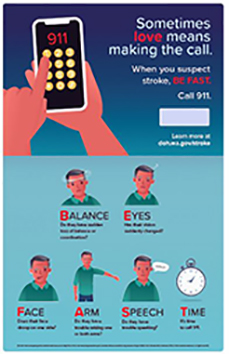 Poster - Custom Text
Printed Material – 11" x 17"
Poster Custom Text - PDF download
---
Rack Card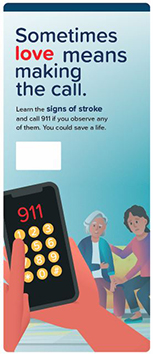 Rack Card
Printed Material – 4" x 9"
Rack Card Custom Logo - PDF download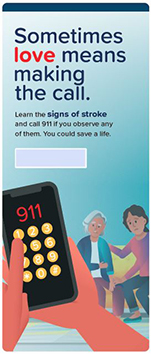 Rack Card
Printed Material – 4" x 9"
Rack Card Custom Text - PDF download