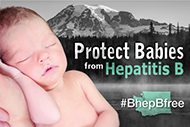 The hepatitis B shot is safe and effective and has been recommended for infants since 1991.
Why should my child get the hepatitis B shot?
Protects your child against hepatitis B, a potentially serious disease.
Protects other people from the disease because children with hepatitis B usually don't have symptoms, but they often pass the disease to others without anyone knowing they were infected.
Prevents your child from developing liver disease and cancer from hepatitis B, it is the world's first "anti-cancer vaccine."
For Parents
Hepatitis B and the Vaccine (Shot) to Prevent It (PDF)
Hepatitis B Shots Are Recommended for All New Babies. Hepatitis B Vaccine Helps Protect Your Baby's Future! (PDF)
Why Do Newborns Get the Hepatitis B Vaccine? (YouTube)
What is Hepatitis B?
For Hospitals
Give Birth to the End of Hepatitis B Washington Flyer (PDF)
Give the Birth Dose... Hepatitis B Vaccine at Birth Saves Lives! (PDF)
Practices to improve coverage of the hepatitis B birth dose vaccine
Hepatitis B: What Hospitals Need to Do to Protect Newborns (PDF)
Policy and Standing Orders (PDF)
For Providers Post Delivery