866-833-6546 Teen Link | 800-273-8255 National Suicide Prevention Lifeline | Lifeline Crisis Chat | Text "HEAL" to 741741 Crisis Text Line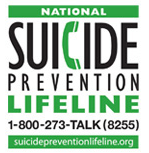 Suicide is the second leading cause of death for Washington youth between the ages of 15 to 19.
On average, in 2017, each week in Washington:
Nearly four youths killed themselves.
Two youth ages 10-24 were hospitalized because of intentional self-injuries, which includes suicide attempts.
When young people die by suicide, they leave behind those who love them. Society loses what these youth would have achieved if they had lived full lives.
Youth suicide prevention resources
Healthy Youth Survey
Responses to the 2018 Washington Healthy Youth Survey showed that 23 percent of tenth graders considered attempting suicide in the past year. Ten percent of tenth-graders reported making a suicide attempt in the 12 months prior to the survey.
Responses by eight-graders on the 2018 Washington Healthy Youth Survey showed that 20 percent had considered killing themselves and that 10 percent had attempted suicide in the past year.
2023 report: Adolescent Mental Health -Significant Challenges And Strategies For Improvement in Washington State (PDF)
Facts
Suffocation is the most common suicide method in Washington State for youth under 18 years of age. Firearms are the 2nd most common suicide method for that age group.
There were more suicides than homicides of youth ages 10–19 in Washington State.
In Washington State, whites accounted for the highest total number of suicides, while Native Americans had the highest rates of suicide.
Suicide rates were lower for African-Americans and Hispanics in Washington State.
In Washington State, females attempted suicide more frequently, yet males died by suicide more often by a ratio of 3:1.
More information
I'm In crisis now | I am worried about someone else | Hotlines, text, and chat resources