Image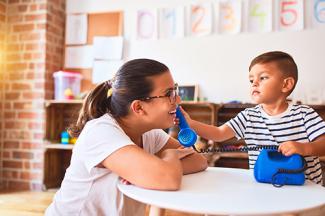 Strong Start is an easy, centralized way to keep track of developmental screening records. Parents, guardians, and healthcare providers can use it to enter the results of screenings that have already been completed, wherever they happen. Families will have an ongoing record they can share with early learning partners like you. This will help ensure children get screenings when they need them. It will also help prevent duplicate screenings.
Are you an early care or early learning provider who conducts developmental screenings in your center?
If you complete the screening with the family, encourage parents to enter the results in Strong Start. That way they will have a lifetime record of their child's screenings that they can access any time.
If the child has been screened somewhere else and their information has been entered into Strong Start, parents will be able to share the results with you, avoiding a duplicate screening.
As the system becomes more widely used, we will be able to generate reports that can be useful to early care and early learning providers. Note: no individual records will be identified in any reports. The summary data will help us know where screenings are taking place, and if families are getting connected to needed support.
FAQs
Want to learn more? Read our Frequently Asked Questions for Early Learning Partners.