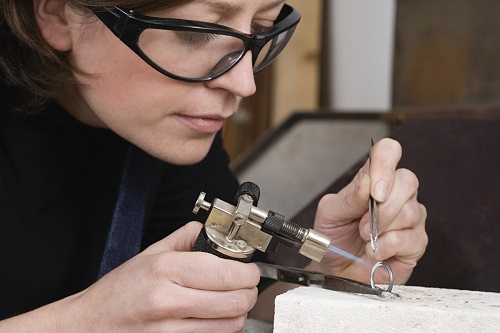 Jewelers and metalsmiths may work with highly hazardous chemical products that can harm their health. Hazardous products used in jewelry making include:
Corrosive degreasers.
Flammable cleaning solvents.
Cancer-causing degreasing solvents.
Toxic tarnish removers and sealants.
Toxic solder and flux fumes.
Corrosive etchants and pickle compounds.
Corrosive and toxic patinas.
Poisonous cyanide electroplating compounds.
Protect Your Skin and Eyes
Wear gloves while working with flux to reduce the risk of dermatitis.
Wear chemical-resistant gloves when working with degreasers and solvents.
Wear gloves, goggles and protective clothing when working with toxic and corrosive pickle, and patinas.
Protect Your Lungs
Position your tabletop kiln, pickle pot and soldering station close to where air exits your studio to carry contaminants away.
Switch to water-based or water-washable materials to reduce toxic solvent vapors.
Keep liver of sulfur away from acids to prevent release of toxic sulfide gas.
Protect your lungs by using chemical specific respiratory protection and effective exhaust ventilation when:

Removing the smoke plume from soldering and brazing.
Using a tabletop kiln.
Casting metals.
Using black patina.
Use Safer Practices and Materials
Use lead-free and antimony-free solder.
Don't buy metal amalgam that contains mercury. Read the safety data sheet before buying amalgam products and avoid products containing mercury.
Use fluoride-free flux like boric acid or fluoroborate compounds.
Avoid degreasers with labels that contain the words flammable, toxic or corrosive. When possible, look for degreasing products that are certified as EPA Safer Choice.
Use properly diluted sodium bisulfate as a less toxic pickle.
Use pre-mixed lead-free enamels.
Avoid enamel frit and colorants containing arsenic and cadmium.
Use cyanide-free electroplating techniques.
Use liver of sulfur gel instead of pebbles to reduce waste and sulfide gas production.
Keep containers closed to prevent spills of toxic liquids and powders.
Visit the Art Supplies page to learn about safety warnings on product labels.
Safely Dispose of Jewelry and Metalsmithing Wastes
Empty containers can be disposed in the trash once almost all the materials they held are gone.
Spent pickle is hazardous waste because it contains toxic metals that can't go down the drain.
Corrosive cleaners and patinas are hazardous waste.
Gold, silver, platinum, palladium, iridium, osmium, rhodium, ruthenium, or any combination of these are precious metals that can be reclaimed for their economic value. Reclamation companies usually pay for the metal. Some companies have local brokers; for others you will have to ship the material yourself.
Scrap precious metals can be delivered to a reclamation company. They usually pay for the metal. Contact your jewelry supplier for more information.
An online search for "Precious Metals Recycling" can also be successful.
Dispose of chemical products used in jewelry making as hazardous waste.
Whenever you create art, make sure the waste you generate is properly disposed. Learn more about waste disposal for artists.
Videos
Disposal - Jewelry-Making Hazards    
Storage - Jewelry-Making Hazards
Soldering and Brazing - Jewelry-Making Hazards   
Patinas - Jewelry-Making Hazards  
Etchants and Pickles - Jewelry-Making Hazards 
Corrosives - Jewelry-Making Hazards