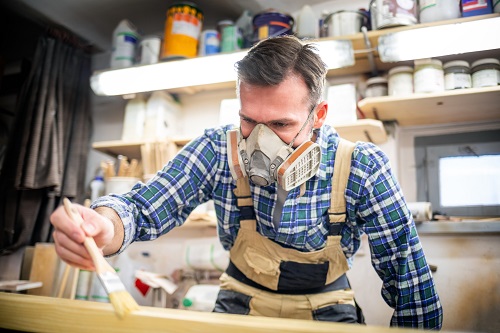 Woodworking machines are dangerous, particularly when used improperly or without safeguards. Learn more at OSHA's Woodworking Hazards and Solutions. 
Woodworking artists may work with highly hazardous chemical products that can harm their health, such as:
Toxic and flammable solvents in adhesives, stains, paints, and finishes.
Corrosive, toxic and flammable paint removers and strippers.
Cancer-causing ingredients in acid-catalyzed coatings.
Toxic chemical compounds in some wood that can cause skin allergies and rashes, asthma, decreased lung function and severe eye irritation. For information see Wood Allergies by the Wood Database.
Protect Your Skin and Eyes
Wear chemical-resistant gloves when working with paint strippers and solvents.
Wear gloves, goggles and protective clothing when working with corrosive paint removers.
If contact with some woods causes skin allergies or rashes, wear protective gloves when handling them.
Confine loose clothing and hair when working near motorized equipment.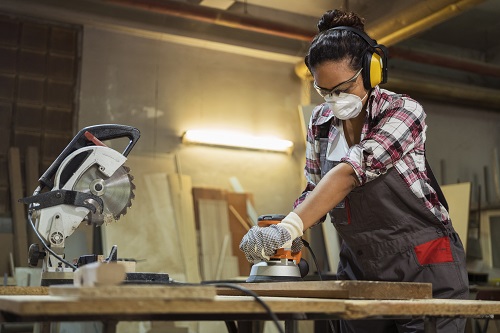 Protect Your Lungs
Wood dust is released at high speed, so it must be captured by a local exhaust ventilation system at or near the source.
OSHA's Woodworking eTool provides recommendations for managing wood dust exposures in the shop.
Protect your lungs by using chemical specific respiratory protection and effective exhaust ventilation when:

Spray-applying solvent-based paint or adhesives.
Using chemical paint strippers.
Use Safer Practices and Materials
Choose water-based products like white glues instead of solvent-based products.
Use paint-on adhesives instead of aerosol sprays.
Read product labels and choose solvents, strippers, and cleaners that don't list toluene, methylene chloride, hexane, or xylene as an ingredient. When possible, search for products that are certified as Safer Choice. Learn more by watching Ecology's videos on safer solvents. 
Use mechanical equipment to remove paint in place of chemical strippers.
Keep containers closed to prevent spills of toxic liquids and powders.
Visit the Art Supplies page to learn about safety warnings on product labels.
Safely Dispose of Woodworking Wastes
Empty containers can be disposed in the trash once almost all the materials they held are gone.
Partly full containers of solvents, adhesives, strippers, stains, and solvent-based paints must be disposed as hazardous waste.
Whenever you create art, make sure the waste you generate is properly disposed. Learn more about waste disposal for artists.