New! Drought Workshop
The Department of Health and the Department of Ecology are putting on a virtual drought workshop via MS Teams. See the drought workshop flyer for more information. Join on your computer, mobile app, or room device.
Early snowmelt, a lack of spring rain, and low stream flows prompted Ecology to declare a drought emergency for 12 watersheds in parts of 12 counties.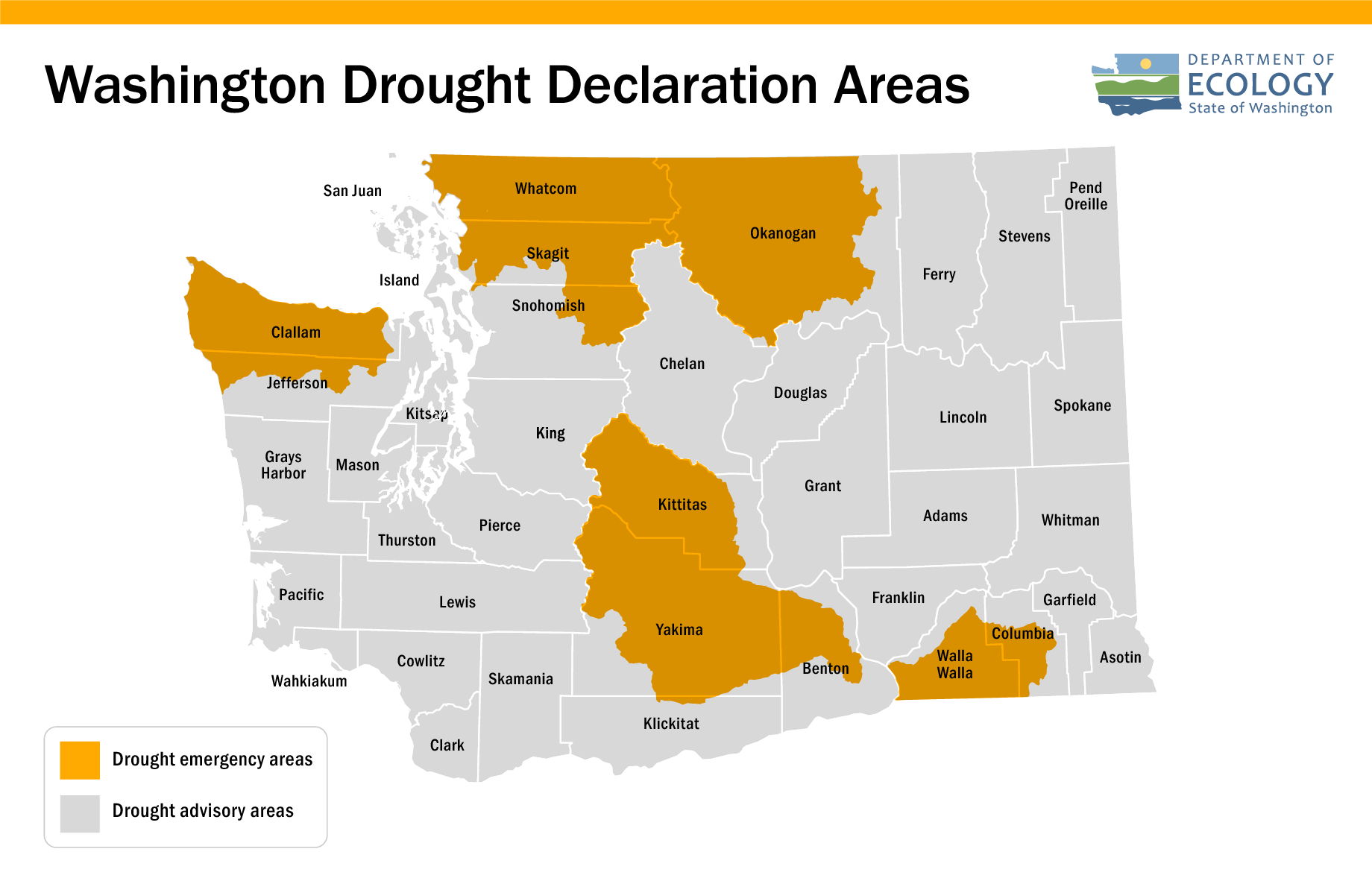 The information below is for water system managers.
For general public, visit Ecology's 2023 Drought in Washington page.
Steps to Take to Identify and Avoid Potential Water Shortages
Monitor water levels. Some water sources are more vulnerable to water shortages. Surface waters, springs, and shallow wells are often heavily reliant on runoff from snow and recent rainfall for recharge. Checking source water levels frequently can help identify alarming trends and give you more time to react. Your local pump technician, Evergreen Rural Water of Washington at (360) 462-9287, or a large neighboring utility, can help you measure water levels. You can also find helpful information with our 331-428 Measuring water levels in wells (PDF).
Find leaks and repair them. Leaky water pipes can waste precious water. Help from qualified professionals on leak detection and repair is available through Evergreen Rural Water of Washington or a professional leak detection company.
Educate your customers about water conservation. This is the time to stress the importance of wise use of water. Water conservation ideas for homeowners can be found at the Alliance for Water Efficiency's website. We have statement inserts/bill stuffers available for your use. You can order them for free in our publications database (use the publication number) or print them yourselves.
Prepare a water shortage response plan. Thinking ahead and developing a plan can help tremendously when problems arise.
Look for alternate sources of water for use during an emergency. Now is the time to develop a relationship with a neighboring water system. Work together for mutually beneficial solutions to a water shortage, or get an emergency water source ready and approved for use. If you have not already done so, this may be an appropriate time to join Washington's Water/Wastewater Agency Response Network (WARN). This network allows water and wastewater systems to receive rapid mutual aid and assistance from other systems in times of an emergency. You can find more information on our WARN Response Network website.
Have your emergency sources tested now. Now is the time to get your emergency water source ready for use. For wells that have been out of service for a while, inspect the seal under the well cap to make sure it is in good condition, make sure there are no open holes in the well head, and there are no potential contaminants in the immediate vicinity. It is also a good idea to test for bacteria and nitrate. That way, if it needs to be sterilized, it can be accomplished before the emergency. Additional guidance and requirements: 331-222 Nitrate Sampling (PDF), 331-225 Coliform Sampling (PDF)
Resources