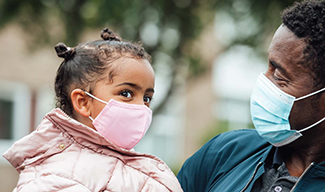 The Washington State Department of Health (DOH) continues collaborating with community development organizations to address health disparities among high-risk and underserved populations, including minorities and rural residents.
DOH received $29 million from the Centers for Disease Control and Prevention (CDC) to strengthen public health infrastructure, preparedness, and response capabilities and services to address health disparities caused by the COVID-19 virus. This grant advances health equity in underserved and disproportionately affected populations through testing, contact tracing, and other mitigation strategies.
Outcomes

By the end of the three-year grant period the state will have increased:

Access to mobile and home-based testing for focus populations
Vaccination uptake among focus populations
The number of stakeholders and partners engaging in work to address COVID-19 disparities in rural communities and within communities of focus
Local capacity for community mobilization and emergency response work

Communities of Focus

This project has a statewide scope, focusing on populations disproportionately affected by COVID-19, such as:

Priority Communities

Black/African American
Hispanic/Latinx
African Diaspora
Asian
Native Hawaiian/Pacific Islander
American Indians/Alaska Natives/Urban Indians

Priority Intersections

People living in rural areas
People with disabilities
Religious minorities
LGBTQ+ people
People over 65 years old
People adversely affected by persistent poverty or inequality, including:

People who are incarcerated
Immigrant and refugee communities
People with limited English proficiency
Agricultural workers
Unhoused people/people experiencing homelessness

Strategies and Activities

Strategy 1: Expand Existing and Develop New Mitigation and Prevention Resources and Services

Support people who stay home to stop COVID-19.
Support community health workers for COVID-19 response and resilient communities.

Care Connect Washington is a program to provide food and other necessities to people who have tested positive for COVID-19 and need support to isolate at home.

Expand partnerships to increase mobile and home-based testing in disproportionately at-risk or isolated areas.

The WA COVID-19 program provides first responders in Washington state with free, COVID-19 tests for their communities.

Strategy 2: Increase and Improve Data Collection and Reporting

Data equity for Indigenous health.

This pilot project between the Seattle Indian Health Board, the Urban Indian Health Institute, and DOH intends to improve the collection, reporting, and dissemination of COVID-19 surveillance data for tribal communities in Washington state. This project will use community driven and equity centered solutions to improve COVID-19 health outcomes of Washington state tribes.

Strategy 3: Build On, Leverage, and Expand Infrastructure Support

Provide low-barrier vaccine access for people who use drugs and people living with substance use disorder.
Provide refugee community health outreach worker support.

The Refugee and Immigrant Health program partnered with refugee health screening clinics that serve refugee and immigrant communities in Washington to build, leverage, and expand infrastructure support for COVID-19 prevention and control among populations that are at higher risk and underserved.

Strategy 4: Mobilize Partners and Collaborators

The Washington State Office of Rural Health funds organizations in rural communities to mobilize partners and address COVID-19 health disparities.
Support the Community Collaborative to ensure DOH applies equity and social justice to COVID-19 vaccine and response planning and decision-making. Formerly called the COVID-19 Vaccine Implementation Collaborative, it is guided by a committee of thought partners who represent communities experiencing health inequities, and it has broadened its focus to include other public health issues.
Provide subawards to community-rooted, community-led entities to mobilize partners and organizations to address COVID-19 health disparities.

The COVID-19 Community-Driven Outreach program works to ensure that Washington communities disproportionately affected by COVID-19 have access to the same critical health and safety information and resources as the rest of the general public.
The Community-Driven Outreach program builds on the accomplishments of the Community Media Outreach program, implemented October 2020 to January 2023, which specifically focused on connecting with priority communities disproportionately affected by the pandemic and that experience access barriers to COVID-19 information, resources and vaccines.
DOH contracts with these organizations to support its communities of focus:
 

Support community engagement and outreach efforts.

This activity helps community-rooted organizations access DOH health information. The team is building internal structures to ensure engagement and outreach opportunities are dynamic, iterative, responsive, accessible and in multiple languages for COVID-19 and future emergencies.
The Building Community Capacity for Equitable COVID-19 Recovery is a funding opportunity for community-rooted, community-led entities to mobilize partners and organizations to address COVID-19 health disparities.