The birth dashboards present birth counts and rates, fertility patterns and maternal and infant health characteristics in Washington State. Birth data are compiled from information on pregnancies and deliveries from birth certificates.
Why is birth outcome data important?
Birth outcome measures show the status of reproductive health across populations. It shows data on fertility, prematurity, low birth weight, and sex ratio. Birth outcomes may be different across geographic areas due to access, level of care, social and environmental exposures and behavioral characteristics.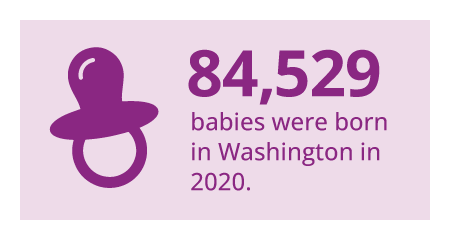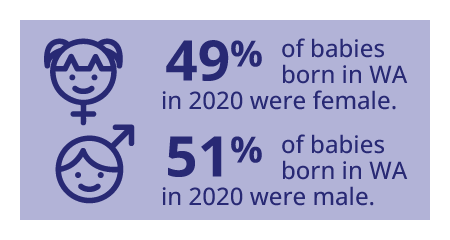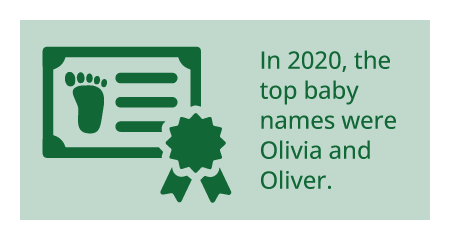 What's Here
The dashboards show data on behavioral and health characteristics, infant health characteristics and health service use for all births in Washington. The data are presented at the state, county and Accountable Communities of Health (ACH) levels and represent all births to Washington State residents regardless of where they occurred.
Together, these dashboards tell a story of pregnancies and deliveries in Washington State and how the impact has changed over time, across age groups and race, and by county and ACH.
View the Data
Birth Risk Factors - Maternal Age
Birth Risk Factors - Maternal Race
You can also explore WTN's Information by Location (IBL) mapping tool to see pregnancy and birth outcomes as they relate to health disparities in Washington communities.
Additional Resources
These dashboards provide a broad overview of births in Washington State. The data sets used to produce these statistics are available for order. You can use these birth rate data sets to conduct more detailed analysis.
2010-2020 Highlights – Vital Statistics Factsheet (PDF)
Historical Vital Statistics - birth statistics for years prior to 2000
Birth Data technical notes (PDF)
Reproductive and Birth Outcomes - CDC
Contact Us
For information or questions related to the Washington Tracking Network, email DOH.WTN@doh.wa.gov.
Let Us Know How You Used the Data
We love hearing about how our data is being used to make an impact on the health of Washingtonians. It also helps us to know what is meeting our users' needs and how we can improve the information we provide. If you used our data, please tell us about it by sending an email to DOH.WTN@doh.wa.gov.
Would you like to receive updates?
Receive updates and information about WTN by joining our email newsletter.
Image