Image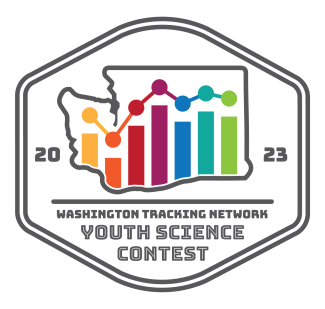 The Washington Tracking Network Youth Science Contest is an opportunity for high school students in Washington state to develop their science and communication skills by engaging with health and environmental data from their own communities.
Why participate?
Build your STEM (Science, Technology, Engineering and Math) skills and understanding of STEM careers.
Work with real data about your community.
Get project feedback from public health professionals.
Increase your awareness and understanding of health and environmental disparities.
Develop your ability to make a positive impact on your community.
Who can participate?
If you're a high school student in Washington state, you can participate. You don't need your school to sponsor you, or to get support from a teacher.
Contest Timeline
The contest begins March 1, 2023. While you are welcome to familiarize yourself with WTN's resources at any time, no work may be done on your project prior to March 1. Registrations are accepted February 15 through March 15, 2023. We must receive your submissions no later than midnight on April 30, 2023. Our panel of public health professionals will judge the projects in May, and we will announce winners in early June. We will send awards and recognition items in mid-June.
Registration for the 2023 contest is now closed.
The Contest
There are three contest tracks that students can choose from:
Health Science
Community Engagement
Science Communication
All tracks must include:
Washington Tracking Network (WTN) data.
An equity focus or analysis.
Clear communication and data visualization.
A reflection on the project process itself.
Health Science track: Do an analysis with WTN data to reveal correlations, impacts, and disparities. Your project may include a paper, dashboard, or multimedia presentations of your analysis and the impact of the information. You may use external data sources to supplement WTN data. View the Health Sciences track guidelines (PDF) and scoring rubric (PDF).
Community Engagement track: Take the data into the real world and use it to make an impact. Use WTN tools and data to address health and equity concerns -- either develop a public policy proposal or work with a local organization to create or improve a project or program. View the Community Engagement track guidelines (PDF) and scoring rubric (PDF).
Science Communication track: Identify an issue that's important to you and develop a message to increase awareness or drive action related to the issue. Projects could be Public Service Announcements (PSAs), public awareness campaigns (including social media), art projects, or any project that communicates a message about specific WTN data to a student-identified audience. View the Science Communication track guidelines (PDF) and scoring rubric (PDF). 
Combined, these tracks provide insight into the lifecycle of data after it is collected: analysis, awareness, and impact/project implementation.
Students may compete in more than one track if they submit significantly different projects for each track they wish to participate in. Projects may be done by individuals or teams of two to three students.
Recognition
All participants will receive:
Written feedback from the judges.
A specially designed contest-branded item.
A certificate of participation.
In addition, participants with first through third place individual or team projects will receive:
A plaque recognizing their achievement.
Their project showcased by DOH on social media and WTN's webpage.
First place individuals and teams will also receive:
A meeting with a relevant expert for mentoring, project elaboration, and professional development.
What is WTN?
The Washington Tracking Network (WTN) is a Washington State Department of Health program focused on making public health data more accessible. WTN's mission is to provide health and environmental data and tools, develop partnerships, and inform data-driven policy and programmatic decisions, with the goal of improving health and health equity in Washington.
Student Advisory Committee
We designed this contest with a team of high school students. They provided valuable insight that shaped the contest, especially the project tracks and participant recognition. We are honored by the time they invested in partnering with us. We appreciate the opportunity to embody our value of equity, by designing a program with key input from people the program is designed for.
Resources
Health Science track guidelines (PDF)
Health Science track scoring rubric (PDF)
Community Engagement track guidelines (PDF)
Community Engagement track scoring rubric (PDF)
Science Communication track guidelines (PDF)
Science Communication track scoring rubric (PDF)
2023 Entry form and waiver (PDF)
2023 Submission instructions (PDF)