The Washington Environmental Health Disparities Map is an interactive mapping tool that compares communities across our state for environmental health disparities.
The map shows pollution measures such as diesel emissions and ozone, as well as proximity to hazardous waste sites. In addition, it displays measures like poverty and cardiovascular disease.
The map also provides new and rigorous insights into where public investments can be prioritized to buffer environmental health impacts on Washington's communities, so that everyone can benefit from clean air, clean water, and a healthy environment.
If you have questions about using the map or want to share how you are using the map, please contact us at EHDmap@doh.wa.gov.
View the Map
Environmental Health Disparities Map
Data
The map is displayed on WTN's Information by Location (IBL) tool. The data on the map include 19 indicators and are divided into four themes:
Environmental Exposures (PM2.5-diesel emissions; ozone concentration; PM2.5 Concentration; proximity to heavy traffic roadways; toxic release from facilities (RSEI model))
Environmental Effects (lead risk from housing; proximity to hazardous waste treatment, storage, and disposal facilities (TSDFs); proximity to National Priorities List sites (Superfund Sites); proximity to Risk Management Plan (RMP) facilities; wastewater discharge)
Sensitive Populations (death from cardiovascular disease; low birth weight)
Socioeconomic Factors (limited English; no high school diploma; poverty; race - people of color; transportation expense; unaffordable housing; unemployed)
Learn about how the Environmental Health Disparities map is being used to support Washington's clean energy transformation.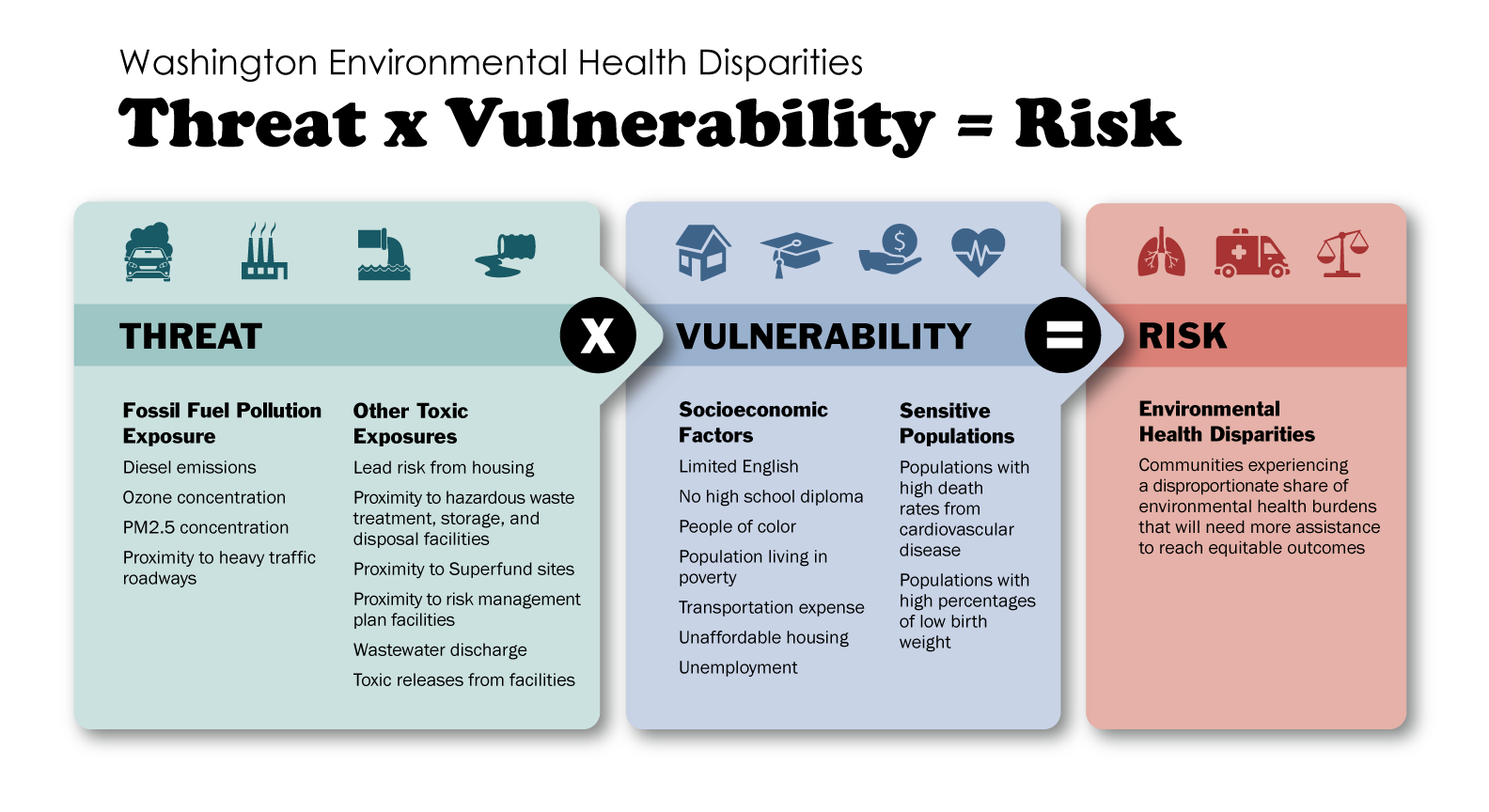 Looking at these factors in combination shows that living in areas with more environmental hazards and population vulnerabilities is associated with a shorter lifespan. The population in census tracts with the lowest environmental health disparities (rank 1) on average lived 5.3 years longer than those in census tracts with the highest environmental health disparities (rank 10).
Image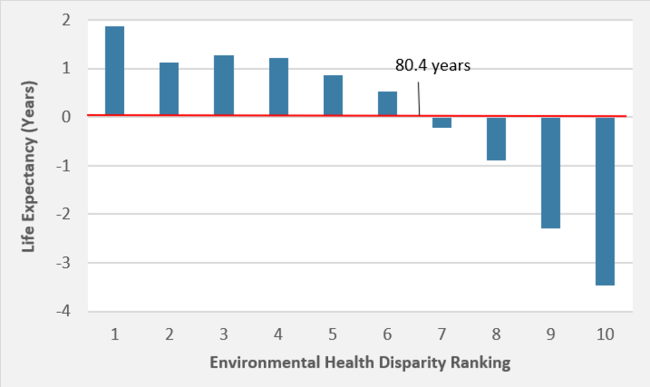 Background
The map was a collaborative project that took several years to develop. It went live to the public in January of 2019.
Those involved in the initial collaboration include: University of Washington's Department of Environmental and Occupational Health Sciences, Front and Centered, Washington State Department of Health, Washington State Department of Ecology, and Puget Sound Clean Air Agency.
The effort included listening sessions with communities in Washington State. The communities gave input that informed development of the map.
Since the map was published, several laws and rules highlight it as a resource. Healthy Environment for All (HEAL) Act, passed in 2021, led to the first dedicated, ongoing state funding to maintain and update the map.
DOH continues to add data to the EHD map to reflect additional health risks. DOH is currently working with partners to develop indicators for: wildfire smoke, asthma, tree canopy and greenspace, water quality, pesticide exposure, redlining index, and a group of climate change indicators.  
The EHD map is a living tool. Developing and improving it is an ongoing process, incorporating feedback and new data. The map will never fully reflect communities' experiences and should not be used to replace community engagement or tribal consultation. If you have feedback about how we could improve the map, please contact us at EHDmap@doh.wa.gov. 

Additional Resources
Environmental Health Disparities Map Flyer (PDF)
Environmental Health Disparities Map Version 2.0 Summary (PDF)
Environmental Health Disparities Map Version 2.0 Technical Report (PDF)
University of Washington's Department of Environmental and Occupational Health Sciences