Immunizations are a safe and effective way to keep people of all ages from getting many serious and sometimes deadly diseases.
Vaccines strengthen the immune system by helping the body to recognize and fight the viruses and bacteria that cause disease without being exposed to the disease itself. Immunizations not only protect the person who receives them, but also provide community immunity (herd immunity) to protect those who have weakened immune systems or are not fully immunized because of some medical conditions, because they are too young or too old, or for other reasons.
View the Data
Public Health Measures - County
Explore school rate dashboards
Find other types of immunization data, including school data here.
Find more detailed IIS technical notes here (PDF).
What's Here
This page is your guide to the data Washington State collects and analyzes about immunization coverage in the state for Washington residents aged 19 months through 17 years. It also gives a brief overview about why these data are important to help increase vaccination coverage.
There are tables, graphs, and maps that you can select by county or Accountable Communities of Health (ACH), age group, and year going back to 2015. These data help to track the progress toward state and national public health goals. Healthy People 2020 targets 80 percent completion of all vaccines recommended for the age group, and 90 percent completion of each individual vaccine.
The data are collected in the Washington Immunization Information System (IIS). The IIS is the lifetime immunization registry for Washington residents available for licensed healthcare providers to track immunizations. It is the most complete source of medically verified immunization data for Washington State.
NOTE: Numbers listed here for 2018 are not comparable to past years because there was a change in how we capture population data. Rates for 2018 also may look different from past years due to this change, and may not indicate a change to actual immunization rates. Read more about the change on the Technical Notes below.
Learn about Public Health vs. HEDIS Measures
Public Health Measures and HEDIS are both ways to track the vaccination completion rates and status of different age groups.
Public Health Measures are used by states and nationally to improve health and control the spread of vaccine-preventable disease in the general population. The Centers for Disease Control and Prevention's Advisory Committee on Immunization Practices is made up of medical and public health professionals who develop recommendations on the use and safety of all vaccines available in the United States.
The Healthcare Effectiveness Data and Information Set (HEDIS) tool is used by more than 90 percent of U.S. health insurance plans to measure performance for quality of care and service for a broad range of health issues, including childhood and adolescent immunization status.
Additional Resources
Vaccines for All Ages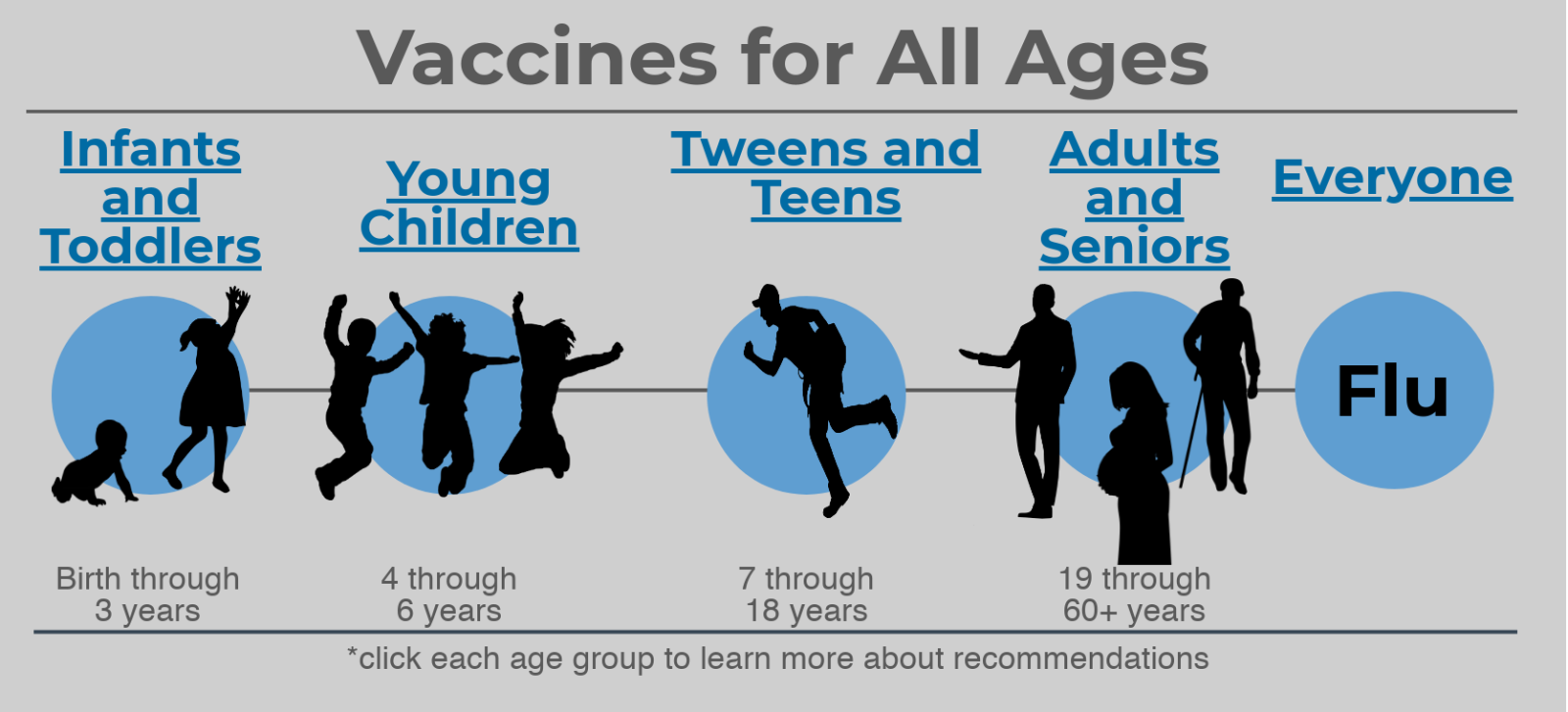 Contact Us
For information or questions related to the Washington Tracking Network, email DOH.WTN@doh.wa.gov.
Let Us Know How You Used the Data
We love hearing about how our data is being used to make an impact on the health of Washingtonians. It also helps us to know what is meeting our users' needs and how we can improve the information we provide. If you used our data, please tell us about it by sending an email to DOH.WTN@doh.wa.gov.
Would you like to receive updates?
Receive updates and information about WTN by joining our email newsletter.
Image