Children are particularly vulnerable to the negative effects of lead exposure as their growing bodies absorb more lead than adults. It is important to minimize the risk of exposure as much as possible, not just in the home but also in schools.
Lead can enter school drinking water when it leaches into standing water from the plumbing. Even new fixtures can be a source of contamination, so it's important to regularly test for lead in all buildings.
Why is data on lead in school drinking water important?
In 2018 the Government Accountability Office performed a nationally representative survey of school districts in the US. Only 43% of districts reported that they had tested for lead in drinking water and 37% of those that reported had lead levels high enough to require remediation.
What is new in Washington?
In Washington State, new legislation went into effect July 2021 requiring testing for lead in drinking water in public schools that were built or had plumbing replaced before 2016 . The sampling and testing must be done by either the Department of Health or by a licensed contractor. Results are reported to the Department of Health.
As of July 2021, remediation is required for results above 5ppb. For test results received between July 1, 2014 and July 25, 2021 if results exceeded 5 ppb then remediation is now required.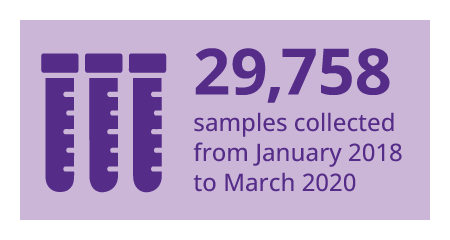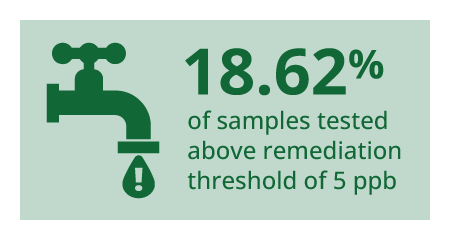 What's Here
The dashboard contains data from state testing of water fixtures in Washington schools from January 2018 to March 2020. The dashboards include
Map of schools tested

Total schools tested

Number of samples taken

Distribution of sample results by county, district, school, and fixture

Individual sample results by county, district, school, and fixture
Data for the new round of testing started in 2022 will be added soon.
View the Data
Lead in School Drinking Water Data
Learn More
Lead in School Drinking Water Dashboard Data Notes (PDF)
Additional Resources
GAO Report: Lead Testing of School Drinking Water Would Benefit from Improved Federal Guidance, July 2018 (PDF) 
Contact Us
For information or questions related to the Washington Tracking Network, email DOH.WTN@doh.wa.gov.
Let Us Know How You Used the Data
We love hearing about how our data is being used to make an impact on the health of Washingtonians. It also helps us to know what is meeting our users' needs and how we can improve the information we provide. If you used our data, please tell us about it by sending an email to DOH.WTN@doh.wa.gov.
Would you like to receive updates?
Receive updates and information about WTN by joining our email newsletter.
Image