The Department of Health collects information on pregnancies in Washington State from birth certificates, fetal death certificates, and the abortion reporting system.
Why are pregnancy and abortion data important?
Live births, fetal deaths and induced abortions make up total pregnancies. Induced abortions are legal procedures defined as interventions performed by licensed clinicians, within state regulations, that are intended to terminate suspected or known ongoing intrauterine pregnancies and do not result in a live birth. Abortion surveillance documents the number and demographics of people obtaining abortions, as well as information about the procedures used. The CDC compiles the information from states to produce national abortion estimates. Abortion data surveillance is necessary to examine trends in public health. It is used to calculate pregnancy, teen pregnancy and abortion rates. It helps evaluate the success of programs promoting equitable access to contraceptive services. It helps monitor changes in clinical practice patterns, procedures used, weeks of gestation, as well as procedure complications and management.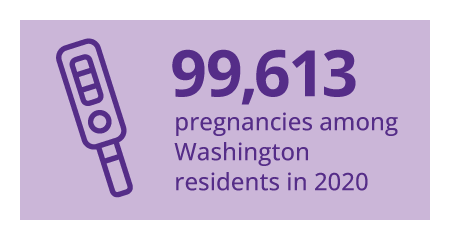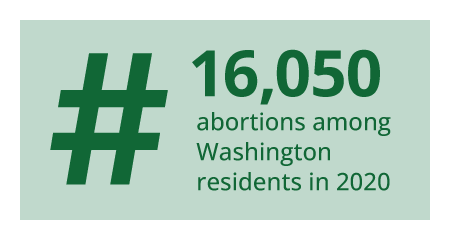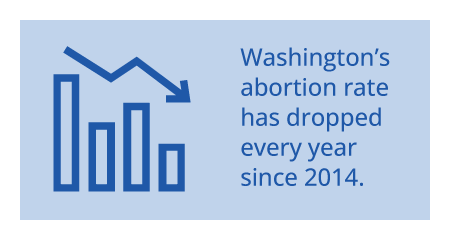 What's Here
The dashboards present data at county and Accountable Community of Health (ACH) level for fertility, pregnancies, live births and abortions. Each dashboard displays rate and counts and viewed together, they tell a story of fertility and reproductive health in Washington state. Data in these dashboards are not personally identifiable.
Abortion dashboards include information on induced abortions. A fetal death occurs when gestation is 20 or more weeks and not live born. A miscarriage is the loss of a pregnancy at less than 20 weeks gestation. Fetal deaths and miscarriages are not included in the Pregnancy and Abortion dashboards.
View the Data
Pregnancy and Abortion Data – County
Pregnancy and Abortion Data – ACH
Learn More
Abortion/Pregnancy Data - Vital Statistics :: Washington State Department of Health
Additional Resources
2010-2020 Highlights - Vital Statistics Factsheet (PDF)
Historical Pregnancy and Abortion Trend Tables, 1983-2016
Overview Table (Excel) - provides a historical context for interpreting vital statistics in Washington State from 1910 through 2022.
Clinical Practice | Program on Reproductive Health and the Environment (ucsf.edu)
Resources: Info For Families | Program on Reproductive Health and the Environment (ucsf.edu)
Health of Washington State Report - Maternal and Child Health
Radiation and pregnancy (marchofdimes.org)
Contact Us
For information or questions related to the Washington Tracking Network, email DOH.WTN@doh.wa.gov.
Let Us Know How You Used the Data
We love hearing about how our data is being used to make an impact on the health of Washingtonians. It also helps us to know what is meeting our users' needs and how we can improve the information we provide. If you used our data, please tell us about it by sending an email to DOH.WTN@doh.wa.gov.
Would you like to receive updates?
Receive updates and information about WTN by joining our email newsletter.
Image