COVID-19 vaccination is required by many businesses, events and employers. The following types of proof are accepted in Washington. Some locations may only accept one specific type from the list below.
CDC COVID-19 Vaccination Record Card
Originals, copies or photographs on a mobile device are acceptable.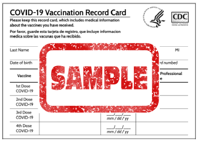 Certificate of COVID-19 Vaccination or QR Codes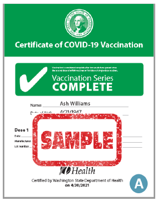 Sample A
Certificate of COVID-19 Vaccination available from
MyIRmobile.com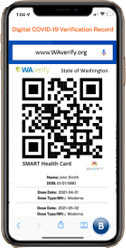 Sample B
WAverify.org
SMART Health Card QR Code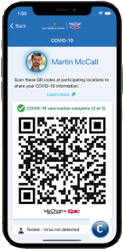 Sample C
QR Code displayed on an endorsed partner mobile app. (Apps may vary)
WA State Immunization Information System printout
Certificate of Immunization Status (CIS) forms printed from the Washington State Immunization Information System.
Hand-written entries are not considered valid unless signed by a medical provider.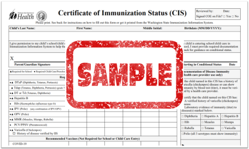 What else counts as an official record of COVID-19 vaccination?
Verified electronic medical record printout from a medical provider.
More Information
For questions about vaccination records, call 833-VAX-HELP
If the information on your COVID-19 vaccine record is incorrect or missing (including wrong dates, incorrect brand, or missing a dose), you may need to correct or update your immunization record. You can contact your provider or submit a COVID-19 vaccine records update.