COVID-19 vaccination is required by many businesses, events and employers. The following types of proof are accepted in Washington. Some locations may only accept one specific type from the list below.
Be prepared in advance to show the type of proof requested - please respect the rules of the room.
CDC COVID-19 Vaccination Record Card
Originals, copies or photographs on a mobile device are acceptable.
Full vaccination is valid two weeks after last recorded dose:

Single dose for Johnson & Johnson (Janssen) vaccine - 18 and older
Two doses of Moderna - 6 months and older
Two doses of Novavax - 12 and older
Three doses of Pfizer-BioNtech - 6 months through 4 years old
Two doses of Pfizer-BioNTech - 5 and older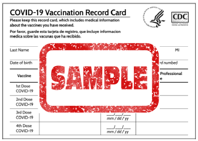 Here are some helpful tips to keep in mind when it comes to handling your vaccination card:
DO keep your vaccination card between doses and afterwards.
DO take photos of the front and back of your card to have a digital copy handy. Consider e-mailing it to yourself, creating an album, or adding a tag to the photo so you can find it again easily.
DO take a photocopy if you want to carry one with you.
DON'T throw it away or lose it!
DON'T post a selfie online showing your vaccination card. Instead take a selfie and use our digital stickers by searching for #vaccinateWA or #wadoh! Remember to tag @WADeptHealth.
DON'T laminate your original card. You may choose to laminate a photocopy to carry with you.
Certificate of COVID-19 Vaccination or QR Codes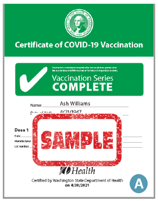 Sample A
Certificate of COVID-19 Vaccination available from
MyIRmobile.com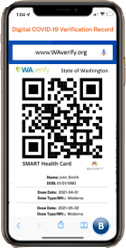 Sample B
WAverify.org
SMART Health Card QR Code
Sample C
QR Code displayed on an endorsed partner mobile app. (Apps may vary)
WA State Immunization Information System printout
Certificate of Immunization Status (CIS) forms printed from the Washington State Immunization Information System.
Hand-written entries are not considered valid unless signed by a medical provider.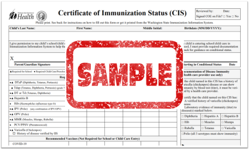 What else counts as an official record of COVID-19 vaccination?
Verified electronic medical record printout from a medical provider.
More Information
For questions about vaccination records, call 833-VAX-HELP
If the information on your COVID-19 vaccine record is incorrect or missing (including wrong dates, incorrect brand, or missing a dose), you may need to correct or update your immunization record. You can contact your provider or submit a COVID-19 vaccine records update.