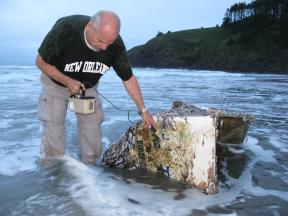 In 2012, we tested thousands of items found on our state's beaches and found no radioactive contamination from Japan. The consensus among scientists is that it's highly unlikely that any tsunami debris from Japan is radioactive.
The tsunami created debris from a large stretch of Japan's coast, but leaks from the damaged reactors occurred in one place. The leak of contaminated water from reactors started well after the tsunami debris had already washed out to sea.
Information about tsunami debris from Japan:
Marine Debris Program - National Oceanic and Atmospheric Administration (NOAA)
What to do if you find debris
Report debris suspected to be from the Japanese tsunami to DisasterDebris@noaa.gov. Include photographs when possible, and also the specific location of the debris.
Report oil and hazardous items that wash ashore to 1-800-OILS-911.
Report potential aquatic invasive species to 1-888-WDFW-AIS.