What is an ICAR?
In partnership with local health jurisdictions, we provide free/non-regulatory Infection Control Assessment and Response (ICAR) consultations to long term care, dental, dialysis, and other health care settings.
Our experienced Infection Preventionists (IP) work closely with the facility and customizes the consultation to assess infection prevention strengths, opportunities on a variety of infection prevention and control topics and any areas of concern the facility has identified.
Each interaction is focused on education and offers the most up-to-date infection prevention resources. Consultations can be completed either onsite or virtually as a televisit.
Image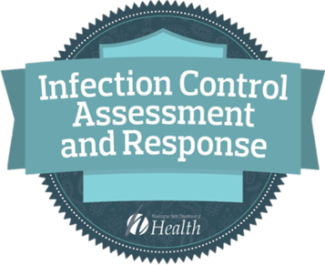 Infection Prevention Staff and Resources
Our most effective resource for infection prevention and control is our team of 16 Infection Preventionists.
Our IPs are trained nurses and epidemiologists that have a wide range of specialties and expertise including long term care, acute care hospitals, oncology, dental, critical access hospitals, and respiratory therapy.
Their primary focus is to ensure our healthcare settings are up to date with infection prevention and control (IPC) practices. The IPs undergo comprehensive IPC training with the ultimate goal of becoming certified in Infection Control (CIC). This certification requires annual continued education and recertification every 5 years.
Preparing for Your ICAR

Post Assessment Information

Your IP will write up and send you a concise, post-ICAR report with resources for you after the visit. To view a sampling of the great resources provided during ICAR assessments and in the reports, check out our all-in-one Infection Prevention Resources (PDF).

Infection Prevention Resources

Facility self-assessment 

Hand Hygeine

Respiratory Protection

Environmental Cleaning

Ventilation

Connect with our team

WA DOH LTC Q&A Call – ending December 2022
ipChat – Skilled Nursing Infection Prevention Forum
ICAR Summary Reports
The Infection Prevention Program (IPP) is tasked with providing infection prevention resources, education, and support to healthcare facilities and local health jurisdictions. Primarily working with long term care facilities, our IPs also work with other healthcare settings such as hospitals, behavioral health, and outpatient clinics as well. Below are our quarterly and annual reports for the ICAR program since its inception in 2020.
ICAR Quarterly and Annual Reports

2021

2022
ICAR Frequently Asked Questions (FAQs)
How can I schedule an ICAR?

Schedule your ICAR by clicking here: Schedule an ICAR Assessment

How much does an ICAR cost?

ICARs are free and non-regulatory.

Is an ICAR required?

ICARs are not required in Washington State but are an excellent opportunity to review and improve your infection prevention policies and protocols.

How long does an ICAR take?

ICARs take approximately 2 hours or less, depending on the size of the facility.

What are the benefits of having an ICAR?

There are many benefits for doing an ICAR. You will receive customized resources and education on your IPC policies and protocols that need improvement. The IP that you will work with is assigned to your county and will be available for your future IPC questions. We are dedicated to giving you consistent and up to date information when you need it.

What type of facility is appropriate for an ICAR?

We work with all types of health care facilities. Our IPs have a wide range of experience in acute care hospitals, critical access hospitals, skilled nursing, dental, dialysis and ambulatory care facilities. We work as a team to assure that we can accommodate all facility types.

What will I receive for completing an ICAR?

You will receive a certificate of participation and a window cling that you can display. You will also receive a concise report with resources after the visit.

I manage more than one facility, can both facilities be seen for an ICAR?

Yes, we will work with you on how best to schedule the visits.

Who will be visiting my facility?

Our IP will be the primary consultant on the visit. We invite your local health jurisdiction to join the visit if they are able. On occasion an IP trainee might attend to gain experience.

I have more questions; how do I contact you?

Email HAI-FieldTeam@doh.wa.gov or phone 206-418-5500
Contact Us
Email HAI-FieldTeam@doh.wa.gov or call 206-418-5500.