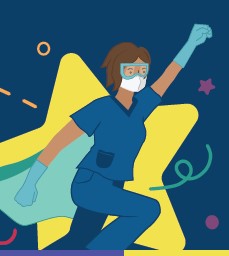 What is Project Firstline?
Project Firstline is a nation-wide project supported by CDC and the Washington State Department of Health to provide frontline healthcare workers with infection prevention and control education.
Our goals are to reduce infections by:
Ensuring Infection Control becomes part of our Healthcare Culture to prevent infectious diseases.
Supporting Washington healthcare workers to be confident Infection Control practitioners.
Infection control prevents or stops the spread of infections in healthcare settings.
Training and Education
We offer several training and education opportunities for frontline healthcare workers and healthcare facilities to improve and further infection prevention and control in Washington. Some of these resources provide free continuing education credits and are in multiple languages. 
Needs Assessment Report
The WA State Project Firstline Infection Control Needs Assessment Report is based on findings from a survey conducted by DOH in collaboration with CDC and the Northwest Center for Public Health Practice (NWCPHP). The goal of the survey was to better understand the learning needs of Washington's health care workers, specifically in infection control topics, and their preferred training delivery methods. The survey was sent out to health care workers across the state of Washington.
Centers for Disease Control and Prevention (CDC)
CDC is the leading partner in Project Firstline, and they are providing the training content. To learn more about CDC and their partners, go to Project Firstline website or follow their Facebook and twitter accounts.
Other Partners
Resources
Ask a Mentor
Part of Project Firstline and the Infection Prevention (IP) Champions Program is to provide infection prevention assistance. Our staff are here to help you with questions and training. Submit a request
Certification
a-IPC and CIC Certification: Certification Board of Infection Control and Epidemiology, Inc. (CBIC)
Connect and get involved
Join APIC! - Get involved with infection prevention (IP) discussions and connect with the IP community. The Association for Professionals in Infection Control and Epidemiology (APIC) is the leading professional association for infection preventionists (IPs).
Questions
For all Project Firstline questions, email ProjectFirstline@doh.wa.gov.