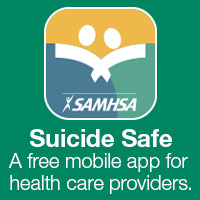 Did you know that most people who attempt and die by suicide have a mental health condition although it's often not diagnosed? Many people who consider and attempt suicide have never seen a behavioral health specialist. Almost all of these people though do see a healthcare professional within a year of their attempt.
A study found that almost 40 percent of people have a healthcare visit within a week prior to their suicide attempt1. Healthcare professionals are in a unique position to notice depression and suicide warning signs in their patients and intervene early. Suicide is a preventable public health issue. Understanding the stressors and hopelessness that lead people to consider suicide and connecting them to the appropriate help can save lives.
Beginning July 1, 2017, health professionals who need to take a training must choose an approved suicide prevention course on the Model List. These courses meet content and time requirements outlined in legislation (RCW 43.70.442).
I'm a health professional
Training Requirements – What are the suicide prevention training requirements for my profession?
Model List – Where may I find a list of approved training programs?
FAQ for Health Professionals (PDF) – Where can I get answers to other questions about training and training requirements?
Resources – Are there other resources I can use to prevent suicides in the workplace?
I'm a suicide prevention trainer or work in a suicide prevention program
Program Approval Process – How can I add my program to the Model List?
Questions?
Contact the suicide prevention program
Suicide prevention training information
Training Requirements | Model List | Program Approval Process | Suicide Prevention Plan | Resources
---
1 Ahmedani, Brian K. "Racial/Ethnic Differences in Health Care Visits Made Before Suicide Attempt Across the United States." Medical Care 53.5 (May 2015): 430-35. Web.