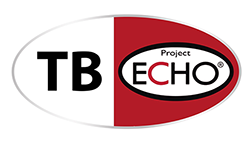 TB Project ECHO® (Extension for Community Healthcare Outcomes) is a collaborative model of medical education and care management that provides healthcare professionals with the knowledge and support they need to manage patients with TB infection through:
Consultations for clinicians working with patients who have TB infection or TB disease.

Participants receive case notes, prepared by the TB ECHO panel, following the session.

Didactics on TB-related topics offered twice a month.

Continuing education credits available for didactics.

Mentoring, from TB specialist, on best practice standards in TB care.

Ability to participate remotely using free, easy-to-use videoconference technology.
Schedule
Sessions are held weekly* from 12:30-1:30 PM, Pacific Time.​
Recorded Presentations
Missed a TB ECHO® session? TB ECHO® now has didactic presentations available for viewing.
Forms
Resources
Articles
Partners
Washington State Department of Health, Firland Northwest Tuberculosis Center, University of Washington Medicine, Washington Tuberculosis Collaborative Network, and Curry International Tuberculosis Center partner to provide technical assistance and shared learning opportunities to clinicians treating patients with tuberculosis infection and disease through TB ECHO®.
TB Project ECHO® is modeled after University of New Mexico's Project ECHO®. In 2009, John Scott, M.D. of the University of Washington, brought the Project ECHO® model in the Northwest and now collaborates with more than 20 rural sites in the region, advising on infectious diseases such as Hepatitis C and HIV/AIDS.
If you are interested in learning more or joining TB Project ECHO®, please contact the TB Program.